June 16, 2023 – In the bustling city of Seoul, Samsung is preparing to unveil its highly anticipated smartphones, the Galaxy Z Fold5 and Z Flip5, at the upcoming Galaxy Unpacked event scheduled for July 26. The excitement is building up as leaked information surfaces, and tech enthusiasts speculate about the innovative features these devices might offer.
One cannot help but wonder what surprises Samsung has in store for us. Recently, an official poster of the Galaxy Z Fold5 was leaked by renowned tech outlet, mysmartprice. The poster showcases an elegant blue variant of the device, with an intriguing addition—the option to use an S Pen stylus. It seems Samsung is expanding the horizons of its foldable smartphones, blurring the boundaries between traditional phones and tablets.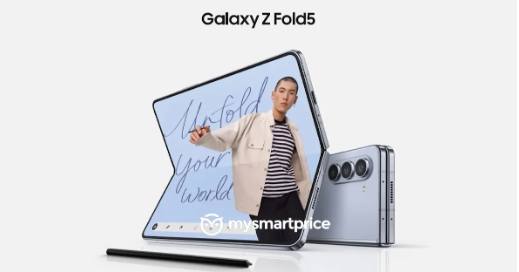 From the poster, one striking detail catches the eye—the absence of the unsightly crease. Samsung seems to have achieved a significant breakthrough with the Galaxy Z Fold5, as the phone seamlessly folds into two parallel parts, eliminating the visible fold line. Additionally, rumors suggest that the device will boast narrower screen bezels compared to its predecessor, further enhancing the immersive experience.
However, as the astute tech blogger @i 冰宇宙 points out, the poster might have been subject to some "beautification." It's important to take these promotional materials with a grain of salt as they tend to present an idealized version of the product. The real device may not be as slim as depicted, reminding us to manage our expectations.
According to earlier leaks, the Galaxy Z Fold5 is expected to feature the innovative "waterdrop" hinge technology. This cutting-edge hinge not only enables a seamless folding mechanism but also provides a smoother folding curve, reducing the visible crease on the screen. Chinese manufacturers have already implemented this technology in their foldable devices, and Samsung seems keen to incorporate it into their flagship foldable phone.
Let's take a closer look at the rumored specifications of the Galaxy Z Fold5. The internal display is expected to span 7.6 inches and utilize a new waterdrop hinge design. It will feature a layer of Corning Gorilla Glass Victus 2, ensuring durability, while supporting a high refresh rate of 120Hz and a QHD+ resolution, delivering stunning visuals. On the exterior, a 6.2-inch AMOLED display with a 120Hz refresh rate and Full HD+ resolution will serve as the cover screen, offering convenience for quick tasks without having to unfold the device fully.
Powering the Galaxy Z Fold5 will likely be the Qualcomm Snapdragon 8 Gen 2 for Galaxy, ensuring smooth performance and efficient multitasking capabilities. In terms of memory and storage, users can expect options ranging from 8GB to 12GB of RAM and storage capacities of 256GB, 512GB, or even 1TB, catering to different needs.
Battery life is a crucial aspect of any smartphone, and the Galaxy Z Fold5 is rumored to house a 4400mAh battery, supporting 45W fast wired charging and 25W wireless charging. This should provide ample power to keep users going throughout the day without frequent interruptions.
Turning our attention to photography, the Galaxy Z Fold5 is said to offer a versatile camera setup. Its rear camera module is rumored to consist of a 50MP primary camera, accompanied by a 12MP ultra-wide-angle lens and a 10MP telephoto lens with 2x optical zoom capabilities. For capturing stunning selfies, each screen portion of the device will house a 12MP front-facing camera, ensuring clear and detailed self-portraits.
Software-wise, the Galaxy Z Fold5 is expected to run on Samsung's custom user interface, One UI 5.1, based on the latest Android 13 operating system.