August 31, 2023 – In a captivating revelation, Alfa Romeo has unveiled the mesmerizing 33 Stradale supercar, a harmonious fusion of heritage and innovation. The 33 Stradale pays homage to its iconic 1967 predecessor, sharing its name and spirit, yet strides resolutely into the future with dual powertrain offerings. Among them, a V6 powerhouse that is poised to be the marque's farewell to traditional combustion, and an avant-garde all-electric variant.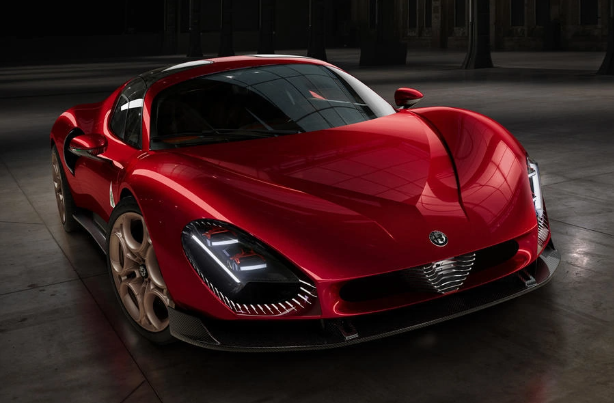 Crafted in an exclusive series of just 33 units, the 33 Stradale exudes rarity and allure, with every unit already spoken for, predestined to grace the roads by December 17, 2024. The waiting list stretches till 2026, a testament to its desirability. This exquisite marvel carries a price tag of approximately £1.7 million, firmly establishing itself as Alfa Romeo's most luxurious proposition to date.
The silhouette, a modern dance between reverence and innovation, echoes the classic lines of its forebear, while embracing cutting-edge materials. Carbon fiber is molded into a singular form, encasing an aluminum H-frame chassis, resulting in a drag coefficient of 0.375. A symphony of mechanics greets the driver within – a tactile orchestra of aluminum, carbon fiber, leather, and Alcantara. But what sets the 33 Stradale truly apart is the bespoke journey it promises. Buyers aren't mere spectators; they're collaborators, invited to shape their car's identity, from the intricate air intakes to the bold wheel rims. This goes beyond customization; it's a symposium of automotive artistry.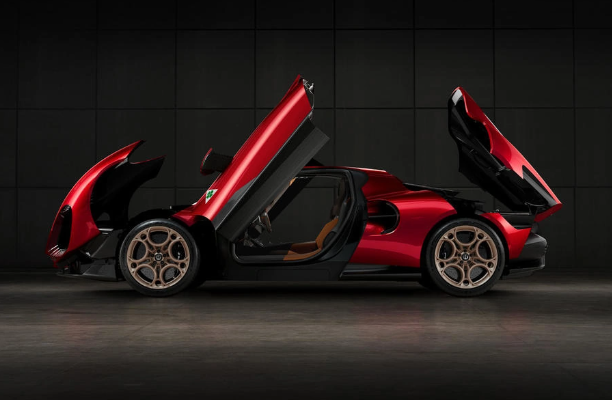 An electrifying dichotomy awaits beneath the hood. One can choose between a roaring 641-horsepower 3.0-liter twin-turbocharged V6 gasoline engine or a whisper-quiet 739-horsepower electric powertrain. For the purists, the V6 sings the swan song of traditional petrol engines, propelling the car from 0 to 62 mph in under 3 seconds, with a top speed of 207 mph. On the other hand, the electric incarnation dances with the wind, achieving the same acceleration feat in less than 2.5 seconds, with a spirit unbridled.
The all-electric variant heralds Alfa Romeo's first foray into electric propulsion, keeping pace with the electrifying zeitgeist. Although specific battery details remain veiled, whispers suggest a WLTP range of around 280 miles. It borrows a chapter from Maserati's playbook, employing a triple-motor all-wheel-drive setup that ensures symphonic control on any terrain.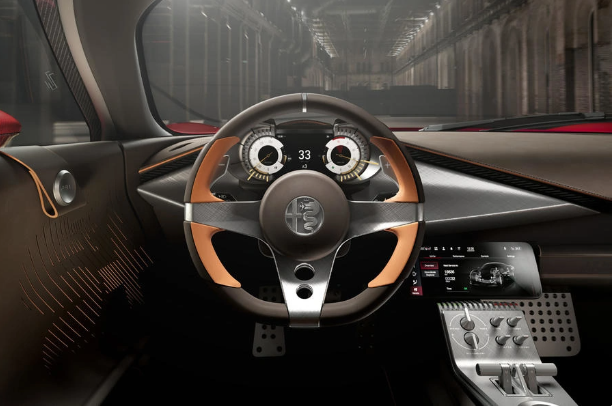 While the 33 Stradale's mechanical prowess is unquestionable, its visage is equally mesmerizing. Carbon-ceramic ventilated brakes anchor its graceful stance, embraced by six-piston calipers at the front and four-piston counterparts at the rear. The heart of the car, its monocoque chassis, is hewn from carbon fiber, while its frame boasts aluminum craftsmanship. The pièce de résistance: the bewitching butterfly doors that elevate ingress and egress into a choreographed performance.
Beyond this opulent offering, Alfa Romeo charts a trajectory toward sustainability. Plans are afoot for two SUVs, the compact Tonale and the subcompact Brennero, both embracing electrification. A new chapter for the Giulia sedan is also in the offing, as it seeks to become a canvas for eco-conscious innovation. As the automotive world transforms, Alfa Romeo not only joins the symphony but takes center stage, harmonizing heritage and modernity in a composition of unparalleled elegance.