May 05, 2023 – According to a recent report from Counterpoint Research, 72% of smartphone users in India experience anxiety when their phone's battery level drops below 20%. The report also found that 65% of respondents claimed that running out of battery affected their mood. In addition, the study revealed that smartphones are the last thing many people interact with before going to bed and the first thing they reach for when waking up.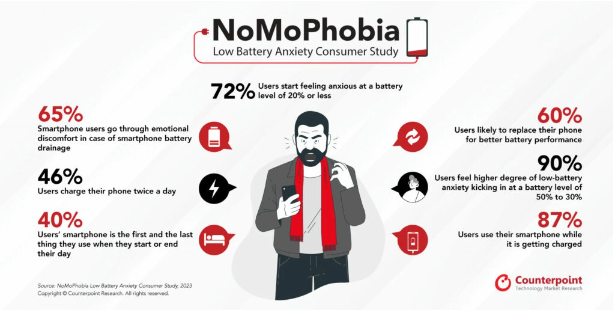 Furthermore, the survey discovered that nearly half of the respondents charged their phones twice a day, while 87% used their phones while charging. Battery anxiety was identified as causing several negative emotions, including worry, isolation, helplessness, fear of missing out, nervousness, and insecurity. Among these, worry and anxiety were the most common emotions reported by 28% of participants.
These findings suggest that smartphones have become a crucial part of daily life in India, and the battery anxiety experienced by users highlights the importance of a phone's battery life. The fear of missing out on important calls, messages, and notifications can lead to feelings of helplessness, nervousness, and insecurity, which could negatively impact a person's mood and well-being. Therefore, improving the battery life of smartphones could be a significant selling point for manufacturers, as consumers are increasingly prioritizing this feature when selecting a new phone.