May 30, 2023 – In an eagerly awaited announcement, Google is set to release its highly anticipated Pixel Tablet on June 20th. Priced at $499, this sleek device is poised to make a splash in the tablet market, offering a compelling alternative to its competitors. During the recent I/O 2023 event, Google unveiled some exciting details about the Pixel Tablet, along with a range of official accessories designed to enhance its functionality. Among these accessories are a protective case and a speaker stand that transforms the tablet into a smart display.
However, a recent leak suggests that Google has more official accessories in the pipeline for the Pixel Tablet, including a keyboard and a stylus pen, which are expected to bolster the tablet's productivity capabilities and bridge the gap with the iPad. Kamila Wojciechowska took to Twitter to reveal that these accessories are still under development, with hopes to expedite the optimization for Android tablets. Nevertheless, Wojciechowska also hinted that the Pixel Tablet is not yet complete, raising concerns about the timely fulfillment of orders when shipments begin next month.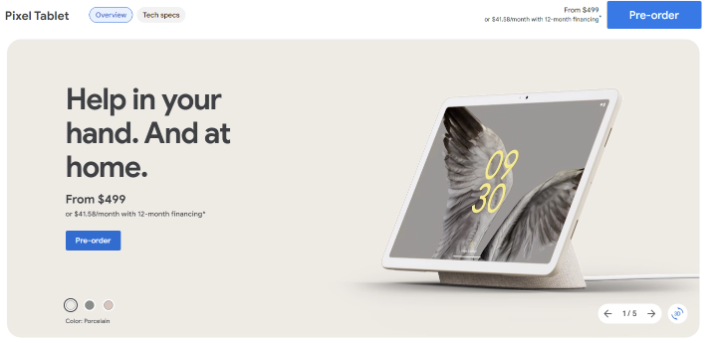 Although the leaker did not provide further details about the keyboard and stylus pen for the Google Pixel Tablet, it remains uncertain whether these accessories will be available for purchase alongside the tablet's launch.
In terms of specifications, the Google Pixel Tablet boasts an 11-inch LCD display with a resolution of 2560 x 1600 pixels, offering a 16:10 aspect ratio and slim, uniform bezels. The tablet features a matte finish on its back and comes in three color options: white, deep green, and light pink. It is powered by the Tensor G2 chip and offers 8GB of RAM, with storage options of either 128GB or 256GB. With a full battery charge, the tablet promises up to 12 hours of battery life. It is equipped with four speakers, three microphones for video calls, an 8MP rear camera, an 8MP front camera, and a power button with integrated fingerprint recognition for added security.
As the release date approaches, Google enthusiasts eagerly await further updates on the Pixel Tablet's accessories, hoping for a comprehensive ecosystem that maximizes the tablet's potential and enhances user experience. Only time will tell if Google can meet the expectations and deliver a truly remarkable device that can rival its competitors in the highly competitive tablet market.