June 5, 2023 – JBL to Unveil New Tune Buds and Tune Beam TWS Earphones in India
JBL is set to launch its latest offerings, the Tune Buds and Tune Beam TWS earphones, in India. Catering to audiophiles and tech enthusiasts, these new earphones promise a blend of style and functionality. Interested individuals can find more details on the dedicated page available on JBL's official website in India.
Both the JBL Tune Buds and JBL Tune Beam TWS earphones boast similar hardware configurations, differing primarily in their design, with or without a handle. These earphones prioritize seamless connectivity and remarkable audio quality.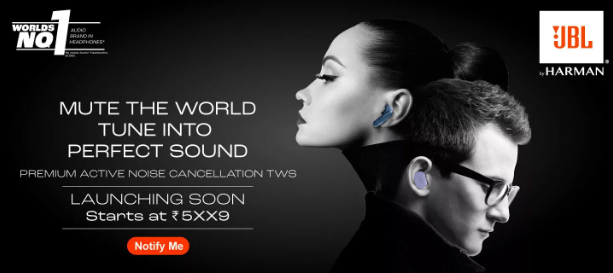 In terms of hardware specifications, both models are equipped with Bluetooth 5.3 and LE audio technology, ensuring reliable wireless connections. They also feature active noise cancellation, allowing users to immerse themselves in their favorite tunes without any external disturbances. Additionally, these earphones come with four built-in microphones and are IPX5 certified, providing resistance against water splashes and dust particles.
Battery life is a significant aspect, and JBL doesn't disappoint in this regard. With a single charge, these earphones can deliver up to 8 hours of uninterrupted playback. The included charging case further extends the battery life to an impressive 40 hours, ensuring users can enjoy their music throughout the day without worrying about running out of power.
To enhance the user experience, JBL offers a dedicated mobile app that allows users to customize various settings and parameters of the earphones. Through the app, users can adjust environmental modes, set equalizer preferences, and fine-tune their audio experience according to their preferences.
While the pricing details have not been officially disclosed by JBL, the promotional images on the JBL India website suggest that these new earphones will be priced above 5,000 Indian Rupees (approximately 430 Chinese Yuan). Tech enthusiasts and fans of JBL's audio products eagerly await the official announcement. Stay tuned for more updates on these exciting new releases.