September 4, 2023 – As the autumn leaves begin to make their descent, whispers from the tech world hint at a forthcoming wave of innovation from Samsung. The renowned company appears poised to introduce its latest creations, the Galaxy Tab S9 FE and S9 FE+, to the eager European market. While the exact details remain shrouded in mystery, leaked pricing suggests that the Galaxy Tab S9 FE could start at €549.99 (approximately ¥4312), while its larger counterpart, the Galaxy Tab S9 FE+, might make its debut at €749.99 (around ¥5880). As anticipation builds, it's worth noting that the Galaxy Tab S8 FE+ currently hovers just shy of €700 on Amazon.

Having recently secured FCC certification, these new tablets are primed for imminent release, promising to redefine the landscape of mobile computing. Whispers in the digital breeze speak of the inclusion of the Samsung Exynos 1380 processor, a powerhouse that boasts 4 cores clocked at 2400 MHz for high-intensity tasks and another 4 cores ticking at 2000 MHz for efficient operations, all harmoniously paired with the ARM Mali G68 GPU.
Distinct variations emerge in memory capacity and screen dimensions. The Galaxy Tab S9 FE is slated to house 6GB of memory, with a display resolution of 1440 x 2304 and a pixel density dancing at 280 DPI. On the other hand, its companion, the Galaxy Tab S9 FE+, elevates the experience with 8GB of memory and a display resolution of 1600 x 2560, adorned with a pixel density of 340 DPI.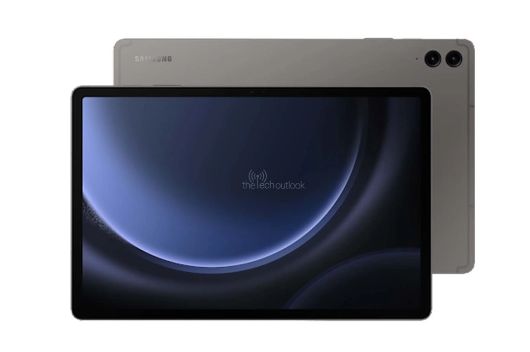 Size becomes a canvas for creativity as the Galaxy Tab S9 FE dons a 10.9-inch screen, while its larger sibling, the Galaxy Tab S9 FE+, reportedly embraces a generous 12.4-inch expanse. When it comes to personal style, Samsung caters to a range of preferences, offering an array of color choices that include Graphite/Gray, Lavender Purple, Mint Green, and Silver.
Setting them apart from the competition, both tablets tout the inclusion of the Exynos 1380 processor, ensuring robust performance. Additionally, the tablets extend a warm welcome to the S Pen, Samsung's signature stylus, accommodating those who seek a tactile and precise interaction. Audio enthusiasts will delight in the presence of stereo speakers, promising an immersive multimedia experience. The contemporary USB-C port takes its place, serving as a versatile conduit for data transfer and charging. Those who value swift recharging options will find solace in the tablets' compatibility with 45W wired fast charging.
As the curtain of anticipation rises, Samsung's Galaxy Tab S9 FE and S9 FE+ stand ready to command the stage, offering a symphony of innovation and user-centric features that are poised to resonate with tech aficionados and creative minds alike. Stay tuned for the official unveiling, where these tablets will emerge from the shadows of rumor and speculation to illuminate the world of portable computing with their brilliance.