October 08, 2023 – Tesla Enhances Camera Quality for HW3-Equipped Electric Vehicles with OTA Update
Tesla has made significant improvements to the camera quality on its existing electric vehicles equipped with HW3 hardware through an Over-The-Air (OTA) software update.
According to reports, the latest 2023.32 Tesla software update has brought substantial enhancements to the image rendering quality of the vehicle's surrounding cameras, particularly in low-light conditions.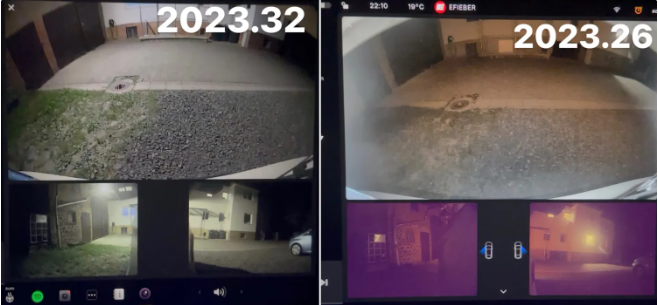 It's worth noting that this update specifically targets Tesla vehicles equipped with Autopilot/Full Self-Driving hardware version 3.0 (HW3). Tesla has since introduced HW4 hardware in newer vehicles, upgrading the camera hardware.
This development suggests that there is still room for improvement in HW3 and may potentially bring Elon Musk's promised Full Self-Driving (FSD) features closer to realization.
At this point, it remains unclear whether these improvements are solely related to display quality or if they also contribute to enhancing Tesla's FSD data collection. Additionally, Tesla has not yet introduced a 360-degree bird's-eye view feature.