July 18, 2023 – In recent days, Roland Quandt, a reliable source, shared high-resolution renders of the Samsung Galaxy Z Flip5, the latest addition to the foldable smartphone lineup. These renders reveal a seamless foldable design without any visible gaps when the device is in the folded state. Moreover, they showcase the external display's enhanced functionality, including support for keyboard input and photography.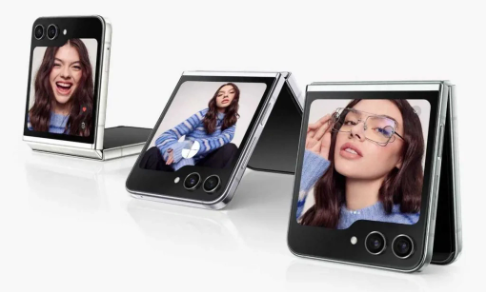 Displayed below are three images arranged side by side, showcasing the external display's "folder" form factor and its ability to display a model's photo. The most noteworthy feature is the external display's complete QWERTY virtual keyboard, enabling users to respond to messages effortlessly.
The Samsung Galaxy Z Flip5 introduces a larger external display compared to its predecessor, adopting the distinctive "folder" shape that enhances overall recognition. Additionally, the rear cameras are arranged horizontally, while the power and volume buttons are located on the right side of the phone.
Leaked specifications for the Samsung Galaxy Z Flip5 include a 6.7-inch FHD+ AMOLED 120Hz internal display, offering a smooth visual experience. The device also features a 3.4-inch external display that provides quick access to information and notifications. Under the hood, it is powered by the Qualcomm Snapdragon 8 Gen 2 for Galaxy chipset, delivering impressive performance.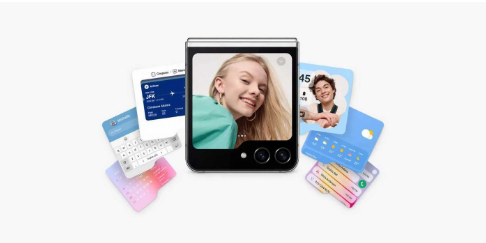 In terms of photography capabilities, the Samsung Galaxy Z Flip5 boasts a 12-megapixel primary camera with optical image stabilization and a 12-megapixel ultra-wide-angle lens. On the front, there is a 12-megapixel selfie camera, ensuring stunning self-portraits.
To keep you powered throughout the day, the device is equipped with a 3700mAh (typical value) or 3591mAh (rated value) battery, supporting 25W fast charging. This ensures that you can quickly recharge your phone and stay connected on the go.
As for storage and memory options, the Samsung Galaxy Z Flip5 offers two configurations: 8GB RAM with 128GB internal storage or 8GB RAM with 256GB internal storage. This provides ample space for your apps, photos, and files.
On the software front, the Galaxy Z Flip5 runs on Android 13, offering a user-friendly and feature-rich operating system. With the latest Android version, you can enjoy enhanced security, improved performance, and access to a vast ecosystem of applications.