June 29, 2023 – The much-anticipated release of the NVIDIA RTX 4060 graphics card is just around the corner, and it's causing quite a stir in the gaming community. Priced at 2,399 yuan, this latest addition to the RTX series is expected to deliver impressive performance at a relatively affordable price point. Building upon the successes of its predecessors, the RTX 4060 boasts several enhancements that make it a compelling choice for gamers and content creators alike.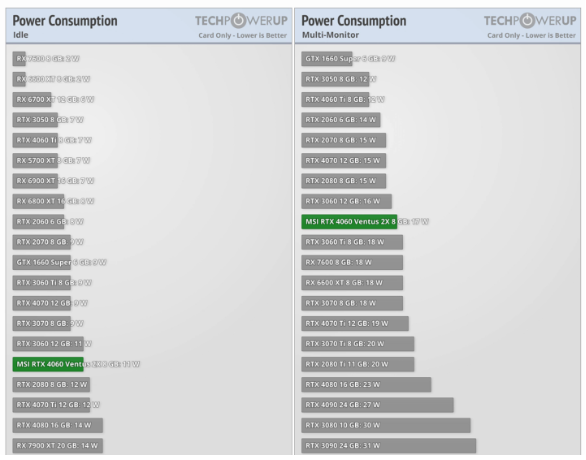 One of the standout features of the RTX 4060 is its power efficiency. TechPowerUp's tests have shown that this new series of graphics cards operates at a significantly lower power consumption compared to previous models. In fact, the game power draw of the RTX 4060 is a mere 126 watts, which is remarkably efficient considering its performance capabilities. These power savings are particularly evident when comparing it to the GTX 1660 Super, as the RTX 4060 manages to outperform it while consuming less power.
Taking a closer look at specific models, the MSI RTX 4060 Artisan non-OC version showcases even more impressive power efficiency. With idle power consumption of just 11 watts and multi-display usage at 17 watts, this graphics card excels in minimizing power draw when not under heavy load. Additionally, the ASUS RTX 4060 DUAL OC model was tested to have a power draw of 131 watts, still lower than its predecessor, the RTX 3050. As a result, experts recommend a minimum 300-watt power supply for the RTX 4060 to ensure stable and efficient operation.
Now, let's delve into the specifications of the RTX 4060. Equipped with 3072 CUDA cores and a boost clock frequency of up to 2.46 GHz, this graphics card delivers impressive performance capabilities. It features 8 GB of 128-bit VRAM, ensuring smooth and fluid gameplay even in graphically demanding titles. The desktop variant of the RTX 4060 shares similar specifications to its mobile counterpart, with a power draw of 115 watts and an average game power consumption of just 110 watts. The idle power draw stands at a mere 7 watts, representing a significant reduction compared to the previous generation.
NVIDIA's official data highlights the capabilities of the RTX 4060 when utilizing the exclusive frame generation technology of the RTX 40 series. With this feature enabled, the performance of the RTX 4060 surpasses that of the RTX 3060 by 1.7 times. Even with the frame generation technology disabled, the RTX 4060 still outperforms the RTX 3060 by 1.2 times.
The upcoming release of the NVIDIA RTX 4060 brings excitement and high expectations to the gaming community. With its impressive power efficiency, enhanced performance, and competitive pricing, this graphics card aims to cater to the needs of both casual gamers and demanding content creators. As gamers eagerly await its availability, it's clear that the RTX 4060 is set to make a significant impact on the gaming landscape.