October 24, 2023 – According to reports from Reuters, artificial intelligence chip giants Nvidia have embarked on designing central processing units (CPUs) capable of running the Microsoft Windows operating system, utilizing Arm's technology. Insiders have revealed that AMD is also planning to manufacture Arm-based PC chips. These chips are expected to hit the market around 2025.
Nvidia and AMD's initiatives are in line with Microsoft's push for chip companies to develop Arm-based processors for Windows PCs. Microsoft's goal is to challenge Apple, which has independently developed Arm-based chips and increased its market share for Mac computers nearly twofold over the past three years.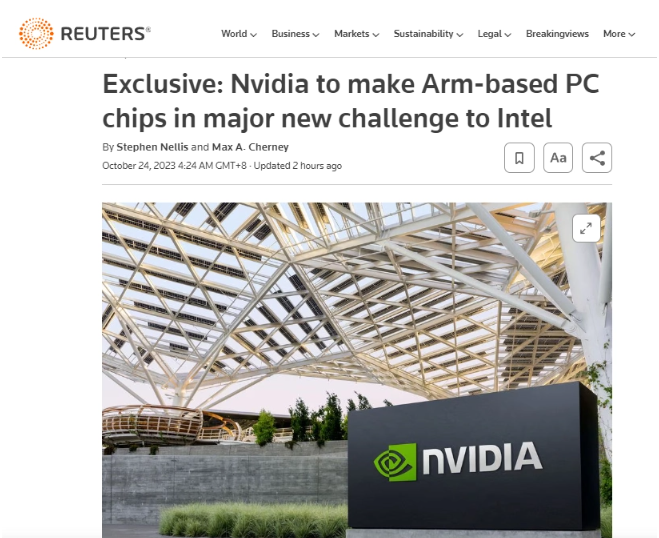 This move positions Nvidia and AMD alongside Qualcomm, which has been producing Arm-based chips for laptops since 2016. Nvidia, AMD, and Qualcomm could potentially disrupt the long-standing dominance of Intel in the personal computer industry, which is already facing mounting pressure from Apple.
Arm, a British chip design company, has traditionally seen its technology used in low-power devices like smartphones. Arm chips offer superior battery life and performance, but they are incompatible with the x86 architecture used by Intel and AMD, posing a challenge for software development.
Microsoft initially collaborated with Qualcomm in 2016 to port the Windows operating system to the Arm architecture. Insiders suggest that Microsoft provided Qualcomm with an exclusive agreement until 2024 before allowing other companies to enter the market. Microsoft is also encouraging chip manufacturers to incorporate advanced artificial intelligence features in CPU design to enhance the performance of Windows software.
Jay Goldberg, CEO of financial and strategic advisory firm D2D Advisory, remarked, "Microsoft learned in the '90s that they don't want to rely on Intel again, they don't want to rely on a single supplier. If Arm really takes off in the PC (chip) space, they'll never allow Qualcomm to be the sole supplier."
Nvidia, AMD, Qualcomm, and Microsoft have all declined to comment on the matter, while Intel has not responded.
It's worth noting that Nvidia's stock price closed up 3.84%, Intel's stock price closed down 3.06%, and Arm's stock price closed up 4.89%.