May 29, 2023 – In a tech world buzzing with anticipation, Meta Quest 2 VR headset has reached a milestone, having been on the market for nearly three years. Originally known as Oculus Quest 2, this immersive device introduced by Meta has captivated enthusiasts worldwide. While Meta introduced the Quest Pro last year, it didn't serve as the true successor to Quest 2. Instead, the Quest Pro targeted high-end VR users and collaborative workspaces, carrying a hefty price tag of $1499.99 (approximately 10,605 CNY). Recent reports suggest that Meta is actively developing Quest 3, and there are claims of individuals having firsthand experiences with an early prototype.
According to Mark Gurman of Bloomberg, he had the opportunity to lay his hands on an early version of Meta Quest 3. He remarked that the prototype appeared significantly lighter and sleeker than Quest 2. The headset's design also underwent noticeable changes, with three pill-shaped sensor areas replacing the previous monotonous gray front. Each of the pill-shaped areas on the left and right sides contains a color video perspective camera, allowing users to see their surroundings, in addition to a regular camera. This means Quest 3 will feature two color cameras, a step up from Quest 2's monochrome cameras. The central pill-shaped area houses a depth sensor, marking the Quest series' first inclusion of such technology.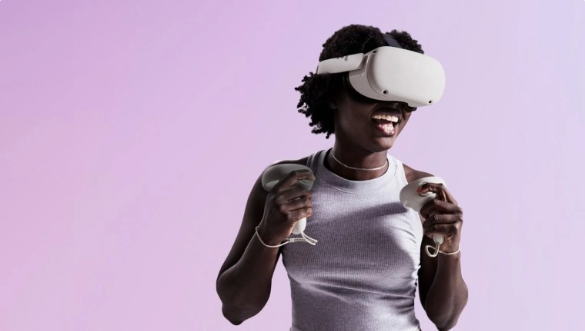 The video perspective hardware of the Quest 3 prototype also brings substantial improvements to the device's augmented reality (AR) mode. Gurman reports that it delivers "more accurate colors and provides an almost lifelike rendering of the real world." The overall performance has also been enhanced, likely due to the adoption of a custom chip announced by Qualcomm in 2022.
Currently priced at $399, Meta Quest 2 has garnered significant attention. Gurman suggests that Meta might offer Quest 3 at a higher price point. However, if the price increase is reasonable, he believes it "could create quite a stir during this year's holiday season."
Reports indicate that Meta plans to release Quest 3 in October, and we might catch a glimpse of this headset's teaser trailer during Meta's annual Meta Quest Gaming Showcase event later this week. The live-streamed event, scheduled for June 1st at 10 a.m. Pacific Time, will showcase a variety of new and undisclosed Quest VR games.