September 12, 2023 – In a recent development reported by MacRumors, the upcoming iPhone 15 Pro series is set to bring some notable changes and enhancements to the table. This latest information sheds light on Apple's strategy regarding memory and storage options, as well as key suppliers for these components. Additionally, there's exciting news about the upgraded A17 SoC (System on a Chip), which promises to deliver significant performance improvements, marking another milestone in Apple's relentless pursuit of innovation.
One of the most intriguing revelations concerns the storage configurations of the iPhone 15 Pro and iPhone 15 Pro Max. Apple is poised to offer four distinct storage options for these models: 128GB, 256GB, 512GB, and a whopping 1TB. This expanded range ensures that users can tailor their choice to meet their specific storage needs, whether they're avid photographers, video enthusiasts, or simply require ample space for apps and data.
On the memory front, Apple is making strides with its LPDDR5 memory technology. The company is currently testing two memory specifications, 6GB and 8GB, for the iPhone 15 Pro series. These memory modules will be supplied by prominent manufacturers such as Samsung, Micron, and SK Hynix. The exact distribution of memory capacities is yet to be confirmed, with two potential scenarios in play: memory capacity could scale in alignment with storage options, or Apple might opt for a straightforward 8GB memory configuration.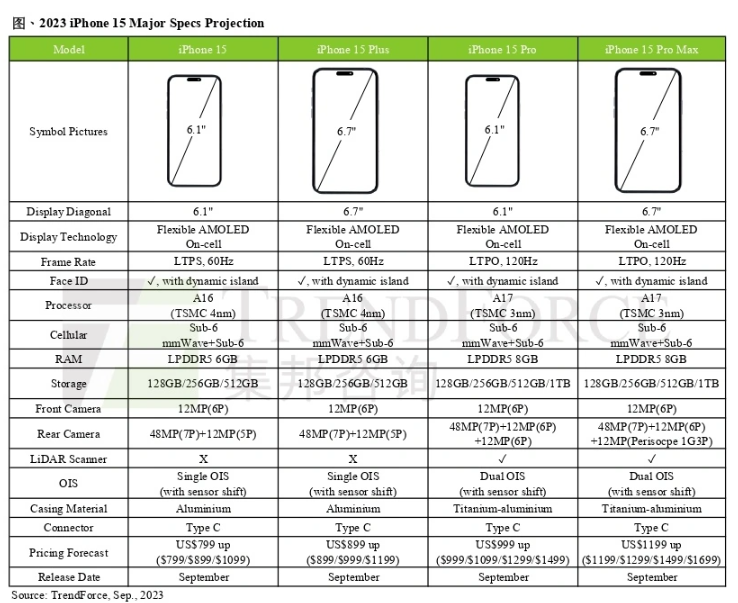 Notably, Apple has diversified its NAND flash suppliers, enlisting the services of SK Hynix, Western Digital, Kioxia (formerly Toshiba Memory), and Samsung. This strategic move aims to ensure a robust and reliable supply chain while offering users consistently high-quality storage performance across different iPhone models.
The crown jewel of these advancements is the A17 SoC, fabricated using TSMC's cutting-edge 3nm manufacturing process. The A17 chip is expected to bolster GPU performance significantly, promising superior graphics capabilities. Moreover, the high-performance cores are set to receive a boost in clock speed, reaching up to 3.70 GHz from the A16's 3.46 GHz, a move that underscores Apple's commitment to delivering top-tier processing power.