November 16, 2023 – Today at the Ignite 2023 developer conference, Microsoft made a significant announcement, officially opening Microsoft Loop to all users. All Microsoft 365 users now have access to Microsoft Loop on both web and mobile devices.
Furthermore, the mobile application has extended its support to individual accounts. Enterprise users, on the other hand, can experience this application through Microsoft 365 E3, E5, Business Standard, and Business Premium.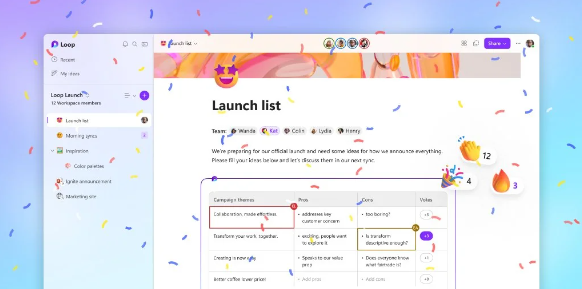 In fact, Microsoft had already released the public preview version of Microsoft Loop back in March of this year. Described as a "collaboration and productivity online tool," Microsoft Loop combines workspaces, pages, and components to help individuals manage projects and collaborate more efficiently.
Within the application, Microsoft introduces the Workspace Status feature, currently in private preview. This feature aims to provide users with crucial information about upcoming deadlines or status changes, offering a concise overview of urgent matters that require prompt attention.
Microsoft Loop also introduces a feature called "Work Descriptions." Microsoft explains that "when creating a workspace, Loop intelligently showcases files and documents that may be relevant to the project." Additionally, users can utilize more specific prompts to obtain more accurate results.
Looking ahead, Microsoft plans to integrate Power Automate into Microsoft Loop to streamline task tracking and project management processes. Users will be able to create new rules in Loop tables, automatically receiving notifications whenever changes occur.
Finally, Microsoft emphasizes its commitment to making it easier for users to dive into projects. At the end of Teams meetings, a Loop workspace will be created, automatically populating with relevant and key documents and notes shared throughout the entire meeting (Note: this feature will be available to users by the end of the year).