November 16, 2023 – According to a recent report from Consumer Intelligence Research Partners (CIRP), the US Weighted Average Retail Price (US-WARP) for iPhones continued its decline in the third quarter of 2023, dropping from $948 in the previous quarter to $918.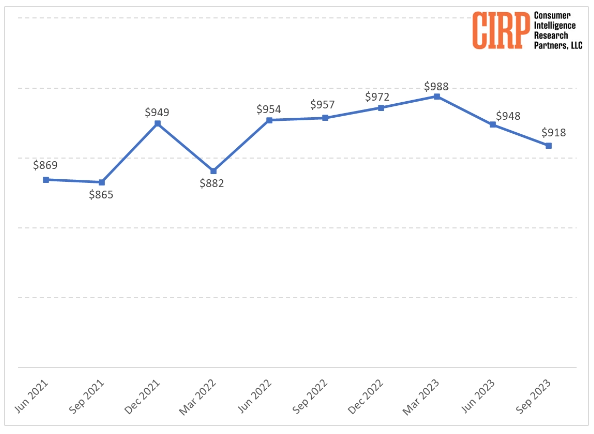 Since Apple discontinued the public disclosure of the Average Selling Price (ASP) of iPhones in 2018, CIRP's research is limited to the US market. However, it reveals a consistent decline in the average selling price for two consecutive quarters.
In the September 2023 quarter, the US-WARP stood at $918, lower than the $948 in the second quarter and the peak of $988 in the first quarter of 2023.
Previous reports from CIRP suggested that a combination of model variations and storage upgrades was a significant factor contributing to the decline in US-WARP. Additionally, Apple's pricing strategy played a role in the downward trend.
The sales percentage of the newly launched iPhone 15 Pro and Pro Max differed by a few percentage points from the previous year's iPhone 14 models. On the other end of the market spectrum, the proportion of sales for the oldest traditional iPhones remained consistent.
The report suggests that inflation has driven up the prices of most products purchased by US consumers. However, Apple has not adjusted the pricing of iPhones since 2020, and the last pricing adjustment for the Pro models dates back to 2017.
Apart from economic pressures, the more significant shift among US consumers is a change in preferences. Buyers are no longer solely inclined towards opting for the top-tier iPhone models.