May 19, 2023 – Sony Announces Upcoming Release of ZV-1 II Vlog CameraIn an exciting announcement, Sony has revealed its plans to unveil a brand new Vlog camera on the evening of May 23. According to insider reports from sonyalpharumors, the upcoming camera, known as the ZV-1 II, is expected to retain the 1-inch CMOS sensor while sporting a revamped lens equivalent to 18-70mm, offering a wider perspective compared to its predecessor.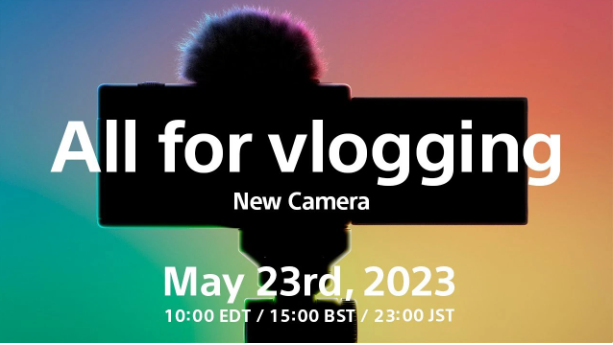 Notable changes and enhancements are anticipated in the Sony ZV-1 II, as the camera will feature a newly designed 18-70mm lens, a departure from the 24-70mm lens found in the previous ZV-1 model. Additionally, the camera will incorporate an array of cutting-edge artificial intelligence functionalities, aiming to elevate the Vlogging experience for content creators.
Industry insiders speculate that the price of the ZV-1 II will hover around the $1,000 mark, translating to approximately 7,040 Chinese yuan. It is important to note that these figures are subject to change and may vary depending on the region and local taxes.
The original Sony ZV-1 was introduced to the market back in May 2020 at a starting price of 5,199 Chinese yuan. Boasting a 1-inch CMOS sensor with an effective pixel count of 20.1 million, the ZV-1 offered an equivalent focal length of 24-70mm and the ability to capture stunning 4K videos. Notably, the camera also featured a convenient one-touch background defocus switch, a 3-inch flip-out LCD screen, a windscreen, and a built-in microphone, making it a versatile choice for Vloggers and content creators.
As Sony enthusiasts eagerly await the official launch, expectations are running high for the ZV-1 II to deliver an enhanced Vlogging experience with its improved lens, AI-powered features, and potential advancements in video quality and usability. Stay tuned for more updates on this exciting development from Sony.