May 22, 2023 – In an exciting turn of events, Motorola is set to unveil their latest addition to the Razr series, the Razr 40 Ultra. This upcoming smartphone takes on a flip-phone design with a foldable screen, presenting users with a unique and innovative mobile experience. According to reports from 91Mobiles, the Razr 40 Ultra is expected to retail for $1000 (approximately 7020 Chinese Yuan Renminbi). With such an enticing flagship model on the horizon, one can only wonder how the standard version of the Razr 40 with a foldable display will be priced, likely offering an even more accessible option.
Let's take a moment to reflect on the journey that has led us to this point. It was back in 2019 when Motorola first introduced the world to the Razr, captivating consumers with its nostalgia-inducing flip-phone design. Priced at $1500 (around 10530 Chinese Yuan Renminbi), it was a symbol of luxury and cutting-edge technology. Building upon the success of its predecessor, the company later released the Motorola Razr 5G, offering improved features and performance at a slightly lower price of $1399 (approximately 9821 Chinese Yuan Renminbi).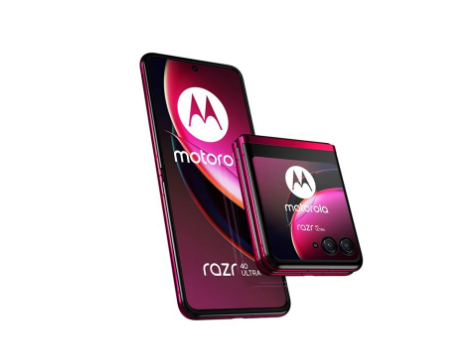 Now, let's delve into the anticipated specifications of the Razr 40 Ultra. Powering this device will be the Snapdragon 8+ Gen 1 chipset, ensuring seamless performance and efficient multitasking. The main display is expected to boast a resolution of 1080×2640 pixels, with a refresh rate of either 120Hz or 144Hz, delivering smooth visuals. Complementing the primary screen, the external display is anticipated to feature a resolution of 1056×1066 pixels. Storage options are likely to include a maximum capacity of 512GB, while the RAM might go up to 12GB, enabling users to store their files, media, and apps effortlessly. The device is rumored to come equipped with a 3640mAh battery, supporting 33W fast charging for added convenience.
As for the camera setup, the Razr 40 Ultra is expected to feature a 12MP primary camera utilizing the Sony IMX563 sensor, ensuring high-quality photographs. Additionally, users can explore their creativity with a 13MP ultra-wide-angle lens equipped with the SK Hynix Hi1336 sensor. On the inside, tucked beneath the foldable display, is a 32MP front-facing camera employing the OmniVision OV32B40 sensor, empowering users to capture stunning selfies and engage in video calls with clarity. The smartphone is said to come pre-installed with the Android 13 operating system, providing a seamless and up-to-date software experience.
Motorola has officially confirmed an event scheduled for June 1st, during which they will publicly announce and showcase their latest Razr series products. With the anticipation building up, tech enthusiasts and smartphone lovers are eagerly waiting to get their hands on the Razr 40 Ultra and witness the advancements in foldable phone technology firsthand.