June 29, 2023 – In a recent revelation by Vetrox360, an animated demonstration of the external screen of the Samsung Galaxy Z Flip5 smartphone has been unveiled, capturing the attention of tech enthusiasts.
The Samsung Galaxy Z Flip5 sets itself apart with its enlarged external display, taking on a distinctive "folder" shape that exudes a sense of elegance and sophistication. The placement of the rear cameras has been reimagined, now arranged horizontally, while the power button and volume keys find their place on the right side of the device, offering users a seamless and intuitive experience.
Embracing a 6.7-inch FHD+ AMOLED 120Hz internal screen, the Galaxy Z Flip5 delivers a captivating visual experience with its high refresh rate, ensuring smooth transitions and vibrant colors. Complementing this, the device features a 3.4-inch external screen, granting quick access to essential information and enhancing user convenience.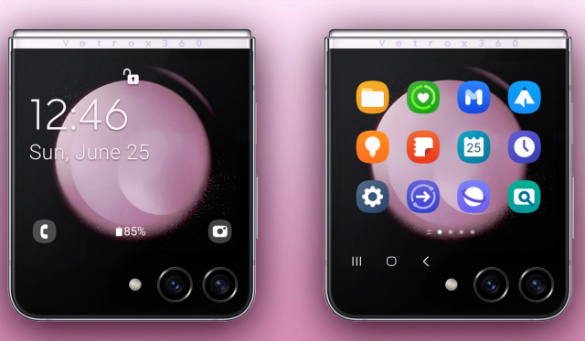 According to reliable sources, the Samsung Galaxy Z Flip5 is powered by the Qualcomm Snapdragon 8 Gen 2 for Galaxy chipset, empowering the device with impressive performance capabilities. With a 12-megapixel primary camera equipped with optical image stabilization and a 12-megapixel ultra-wide lens, users can capture stunning photos from various perspectives.
On the front, the device sports a 12-megapixel selfie camera, ensuring crisp and detailed self-portraits that meet the demands of avid selfie enthusiasts.
The Galaxy Z Flip5 boasts a 3700mAh (typical)/3591mAh (rated) battery, providing ample power to fuel your day, and supports 25W fast charging for added convenience.
Offering two storage options, 8GB RAM with either 128GB or 256GB of internal storage, the Galaxy Z Flip5 provides users with ample space to store their files, apps, and multimedia content.
Running on the Android 13 operating system, the Samsung Galaxy Z Flip5 presents an enhanced user experience with its seamless interface and access to the latest features and updates.
With its striking design and impressive specifications, the Samsung Galaxy Z Flip5 is set to make a significant impact on the market, catering to the needs of smartphone enthusiasts seeking both style and functionality.