October 23, 2023 – ROCm, an open-source software platform, empowers researchers to harness the potential of AMD Instinct accelerators, fostering cross-platform high-performance computing and AI innovation.
This week, AMD has unveiled ROCm 5.7.1 drivers for Ubuntu Linux, offering support for PyTorch 2.0.1 on RDNA 3-based Radeon Pro W7900 and Radeon RX 7900 XTX graphics cards.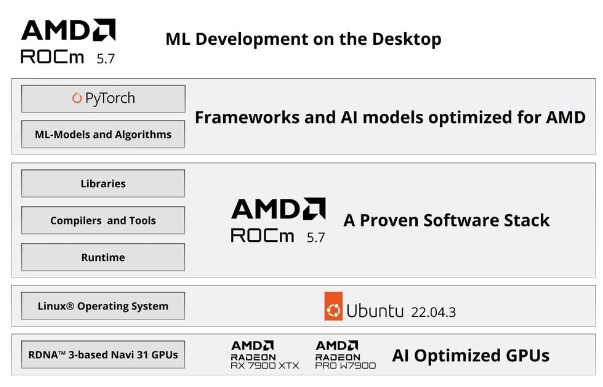 This move enables developers to leverage AMD's consumer flagship GPUs for AI applications using the PyTorch library, reducing their reliance on Nvidia.
Notably, these drivers have been optimized specifically for PyTorch 2.0.1 and cater to the capabilities of AMD RDNA3-based GPUs.
It's worth mentioning that ROCm 5.7.1 drivers currently support only two flagship cards: the Radeon RX 7900 XTX 24GB and the Radeon Pro W7900 48GB. This limitation arises from the fact that AI applications like large language models (LLMs) often require extensive video memory, and AMD also aims to maximize sales of high-end hardware.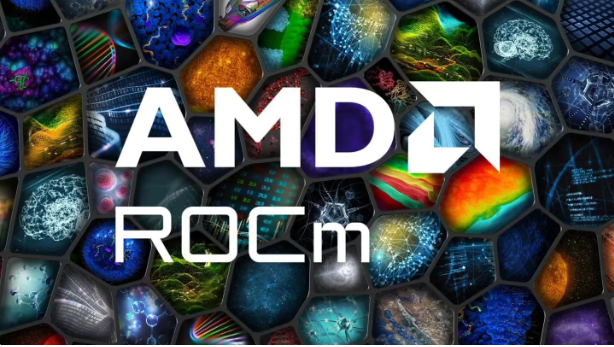 AMD highlights that the Navi 31 GPU features 192 AI accelerators, doubling the 96 found in Navi 21, making it suitable for AI applications. Moreover, the AMD Radeon RX 7900 XTX 24GB is priced at $999 (note: the initial price in China is ¥7999, but it's now generally lower), significantly more affordable than professional AI and HPC GPUs.
The AMD Radeon RX 7900 XTX boasts 96 compute units (CUs), 6144 stream processors, a GPU frequency ranging from 1900 to 2500MHz, and single-precision performance of up to 61 TFLOPS. It also packs 24GB of 20Gbps GDDR6 memory with a bandwidth of up to 960GB/s, along with 96MB of Infinity Cache, resulting in an effective bandwidth of 3.5TB/s.