May 24, 2023 – In a highly anticipated announcement, Sony unveiled the next generation of virtual reality gaming with the release of PlayStation VR2. Priced at $559 and set to hit stores worldwide on February 22, 2023, this advanced VR system promises to redefine the gaming experience. Building upon the success of its predecessor, the PlayStation VR1, Sony aims to surpass its previous sales records and dominate the virtual reality market once again.
Rumors circulating within the gaming community suggest that the PlayStation VR2 has already achieved remarkable sales figures. According to leaked slides from an internal Sony meeting, nearly 600,000 units have been sold as of April this year. This surpasses the sales numbers of the PlayStation VR1 during the same time period by a significant 8%. With an estimated total revenue of $335.4 million (approximately ¥2.368 billion) based on the $559 price tag, Sony's PlayStation VR2 has been embraced by gamers worldwide.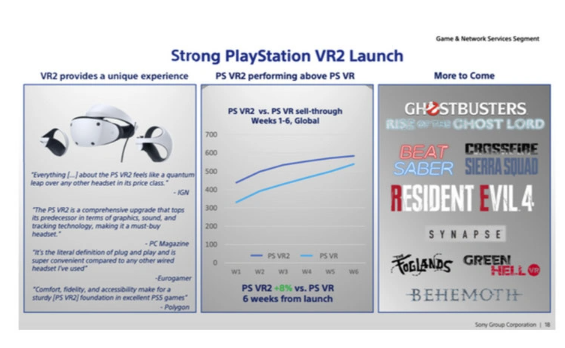 The excitement surrounding PlayStation VR2 doesn't stop there. The leaked presentation also confirmed the arrival of highly anticipated titles, including "Ghostbusters: Afterlife," "Beat Saber," "Jungle Inferno," "Resident Evil 4," and "Behemoth." This robust lineup of games ensures that players will have a diverse and thrilling selection of experiences to enjoy on the PlayStation VR2.
The success of its predecessor, the PlayStation VR1, is undeniable, with over 5 million units sold throughout its lifecycle. Sony's Chief Financial Officer expressed optimism that the PlayStation VR2 will surpass this milestone. Early indications are promising, as the PlayStation VR2's sales have already shown an 8% growth rate within the first six weeks since its launch.
Sony's Executive Vice President and Chief Financial Officer, Yuuki Iwase, confidently predicts that the PlayStation VR2 will outperform its predecessor. With the PlayStation VR1 selling 5 million units by the end of 2019, the bar is set high for its successor. However, Jim Ryan, President of Sony Interactive Entertainment, remains cautious in prematurely declaring the success of the PlayStation VR2.
As the gaming community eagerly awaits the release of the PlayStation VR2, Sony's latest venture into virtual reality is poised to captivate players worldwide. With enhanced features, an expanding library of games, and impressive sales figures, the PlayStation VR2 represents a significant leap forward in immersive gaming experiences.