June 20, 2023 – Rethinking Sofas: IKEA's AI-Driven Sustainable Design Revolution In a bold move towards revolutionizing traditional sofa design, Swedish home furnishing giant IKEA, through its research and design laboratory SPACE10, has recently unveiled their next-generation sofa crafted entirely by AI. This groundbreaking project, a collaborative effort between SPACE10 and design firm Panter&Tourron, aims to introduce eco-friendly and portable concepts that challenge our conventional perception of sofas.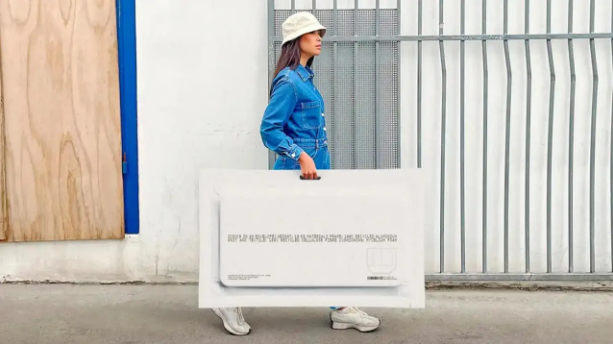 Departing from conventional sofa design practices, the teams at SPACE10 and Panter&Tourron harnessed the power of generative AI tools like Runway and Midjourney to break free from the norm. By inputting keywords such as "platform," "lightweight," and "sustainable," they skillfully guided the AI to conceive a remarkable sofa that pushes the boundaries of innovation.
Behold, the "Couch in an Envelope" emerges as a testament to the marriage of lightweight, flexible, and modular design. Weighing a mere 10 kilograms, this remarkable sofa seamlessly fits within a flat, square-shaped packaging reminiscent of an envelope.
Traditional sofas often contribute to environmental degradation due to the difficulty in recycling their materials and components, resulting in their inevitable burial in landfills. SPACE10 recognized the urgency to address these challenges and embarked on a mission to create an innovative solution that can adapt to the forthcoming social transformations impacting humanity and our planet. Consequently, the "Couch in an Envelope" embraces a fully recyclable lightweight aluminum frame and biodegradable fiber materials.
Setting a new standard in user-friendliness, this sofa can be assembled and disassembled effortlessly without the need for any tools. The choice of lightweight materials also facilitates easy transportation and delivery. Additionally, thanks to its modular design, users can combine multiple units, detach the backrest, or even merge them into a flat, reclining bed, adapting to various spatial configurations and needs.
However, it's important to note that this AI-powered endeavor by SPACE10 and Panter&Tourron remains an experimental project, and the "Couch in an Envelope" is not currently available for purchase or mass production.
Prior reports indicate that IKEA has already begun extensive deployment of AI within its business operations. With its AI-based remote interior design services alone, the company has generated an annual revenue of 1.3 billion euros (approximately 10.166 billion Chinese Yuan) to date.