July 10, 2023 – Audi Unveils Revolutionary Electric Vehicle Concept at the Ingolstadt Plant Audi has made waves in the automotive industry today with the introduction of their groundbreaking electric vehicle concept, the EP4. This cutting-edge innovation was unveiled at the Ingolstadt plant in Germany, marking a significant milestone as the facility celebrates its 150th anniversary. Drawing inspiration from the rich heritage of the NSU brand, which previously owned the factory, Audi pays homage to the iconic NSU Prinz 4, the last model produced under their name. The EP4's name itself is derived from "Electric Prinz 4," symbolizing the fusion of heritage and modern technology.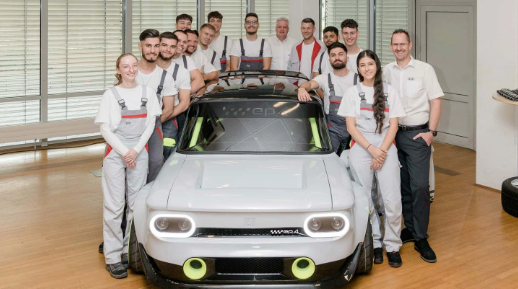 Bringing together the expertise of 12 apprentices from the Audi factory, the EP4 concept car is a testament to ingenuity and innovation. The transformation process involved modifying a 1971 Prin Z, a small two-door compact car originally equipped with a rear-mounted 598 cc air-cooled twin-cylinder engine, producing a modest output of approximately 30 horsepower. The apprentices replaced the outdated engine with a powerful 240 horsepower electric motor sourced from the 2020 Audi e-tron. Additionally, they integrated a high-voltage battery pack from the Audi Q7 TFSI e quattro plug-in hybrid model, effectively replacing the front fuel tank. The chassis, braking system, and bearings were meticulously upgraded using components derived from the Audi A1, ensuring optimal performance. The vehicle's body underwent extensive modifications and widening, complemented by the addition of a prominent rear spoiler to enhance aerodynamics.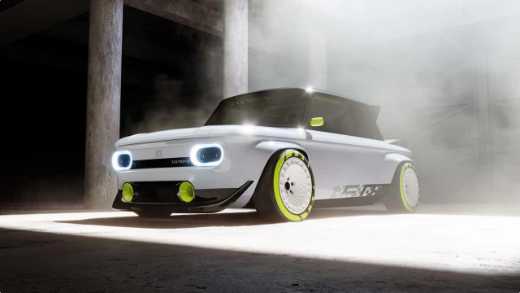 Inside the EP4, simplicity reigns supreme. The cabin features a minimalist design, housing a single-board computer and corresponding screens serving as the instrument cluster and display interface. Two Recaro Podium bucket seats provide a comfortable and sporty seating arrangement, while a roll cage ensures safety. Timo Engler, Head of Training Vehicle Technology/Logistics at Audi, expressed his enthusiasm for the project, stating, "This endeavor has allowed our apprentices to freely experiment with various technologies and materials. In addition to the electric drivetrain, they have incorporated 3D printing, with carbon fiber utilized for the modified front hood."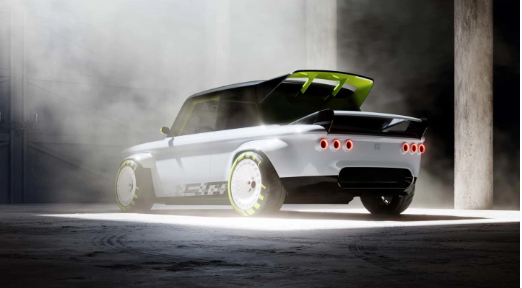 The EP4 electric concept car stands as a compact yet formidable testament to the history of the Ingolstadt plant while offering a glimpse into the future of the Audi brand. It exemplifies Audi's commitment to pushing the boundaries of electric mobility and showcases the skills and dedication of the apprentices who brought this vision to life. As Audi paves the way for sustainable and innovative transportation, the EP4 serves as a bold statement of their progressive mindset and sets the stage for the exciting developments yet to come.