June 21, 2023 – Samsung Unveils Cutting-Edge Exynos Auto V920 Processor for Next-Generation Vehicles Samsung has recently introduced its latest automotive processor, the Exynos Auto V920, manufactured using the advanced 5nm process. Serving as the successor to the Exynos Auto V9 chip, which was launched a few years ago and has been utilized in Audi vehicles, the Exynos Auto V920 has now revealed more details about its impressive capabilities.
At the heart of the Exynos Auto V920 lies a powerful 10-core Cortex-A78EA CPU. Samsung boasts a remarkable 70% performance improvement compared to its predecessor, the Exynos Auto V9. Notably, this processor also features the state-of-the-art Xclipse GPU, based on the AMD Radeon RDNA2 architecture, which has been previously employed in the Exynos 2200 smartphone chip. In contrast to the previous ARM Mali GPU used in Exynos Auto chips, the Xclipse GPU enhances graphical processing capabilities significantly.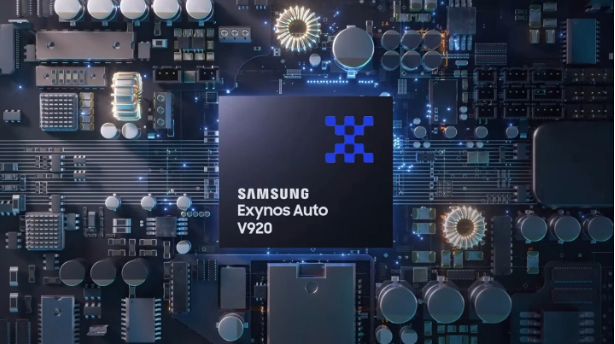 Designed to drive up to six high-resolution displays, including instrument clusters and entertainment screens for both front and rear passengers, the Exynos Auto V920 offers exceptional display management capabilities. However, its prowess extends beyond visuals. Equipped with a dual-core Neural Processing Unit (NPU), this chip delivers an impressive AI and ML performance of up to 23.1 TOPS. The NPU enables intelligent features and facilitates advanced driver-assistance systems by real-time object recognition through camera feeds. Furthermore, the Exynos Auto V920 supports up to 12 camera sensors simultaneously and incorporates a remarkable 144db HDR functionality, ensuring superior performance even in challenging lighting conditions.
Moreover, the Exynos Auto V920 seamlessly integrates a Digital Signal Processor (DSP) dedicated to audio processing. With its three next-generation HiFi cores, this chip provides an immersive audio experience and crystal-clear voice calls. Additionally, it incorporates an embedded secure enclave with ASIL-B (Automotive Safety Integrity Level B) certification to enhance security. The chip supports LPDDR5 DRAM, UFS 3.1 storage, and two 10Gbps 2x USXGMII / SGMII / RGMII Ethernet connections.
The Exynos Auto V920 chip is set to power the upcoming vehicles from Hyundai Motor Company in 2025, delivering unparalleled support to their infotainment systems and driving the automotive industry into a new era of innovation and performance.