June 19, 2023 – SK Hynix's Rise: Unrivaled Success in the DDR5 DRAM Market In the ever-evolving landscape of technology, SK Hynix has emerged as an undeniable force in the highly lucrative DDR5 DRAM market. With their unwavering commitment to innovation and relentless pursuit of excellence, SK Hynix has secured a dominant position that is set to redefine the industry.
Industry experts are in awe of SK Hynix's remarkable accomplishments, as they have effectively cornered the market with their cutting-edge DDR5 DRAM solutions. While competitors like Samsung Electronics and Micron have faced setbacks and delays in their product releases, SK Hynix has capitalized on the opportunity, establishing an unassailable lead that shows no signs of faltering.
A key driver of SK Hynix's success lies in their unrivaled production capabilities. The company's 1a standard DDR5 DRAM products have achieved an astounding yield rate of 90%, surpassing even the loftiest expectations. This remarkable feat not only solidifies their position as a market leader but also enables them to meet the soaring demand for high-capacity DDR5 solutions, particularly in the server sector.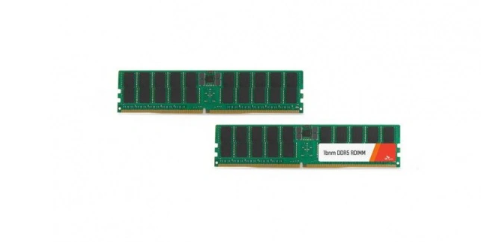 SK Hynix's foresight and proactive approach have allowed them to stay ahead of the curve. By prioritizing the development of 128GB DDR5 DRAM modules, they have become the sole supplier for this much sought-after product. With Samsung Electronics and Micron unable to deliver comparable offerings, SK Hynix enjoys a 100% market share, further consolidating their dominance.
It is important to acknowledge that SK Hynix's early stronghold in the DDR5 market is not a stroke of luck but a result of their unwavering commitment to technological advancements. Their relentless pursuit of excellence has enabled them to achieve a golden yield rate, surpassing industry standards and solidifying their reputation as the go-to provider of DDR5 DRAM solutions.
As the industry eagerly awaits the next generation of DDR5 DRAM, SK Hynix continues to push boundaries. Their relentless pursuit of innovation has positioned them as the frontrunner in the development of the 1b-nano process, the next evolutionary leap in the DRAM landscape. Industry insiders and analysts alike recognize SK Hynix's advancements in this area, further cementing their position as an industry trailblazer.
In a landscape defined by fierce competition, SK Hynix has proven to be a formidable force, setting new benchmarks and reshaping the DDR5 DRAM market. With their unrivaled production capabilities, technological prowess, and unwavering commitment to excellence, SK Hynix's rise is nothing short of extraordinary.