September 20, 2023 – In a glimpse of the future, Tesla's long-awaited electric pickup truck, the Cybertruck, which was unveiled back in November 2019, is steadily making its way to the production line. Recent sightings across various locations in the United States have provided a sneak peek into the vehicle's progress. Notably, the Cybertruck was spotted at Tesla's newly installed 50,000th Supercharger station, raising excitement among eager fans.
Previously, reports had indicated that the Cybertruck, scheduled for deliveries later this year, had already commenced production at Tesla's massive factory in Austin, Texas, starting as early as July. By the end of last month, rumors circulated that the production had reached a milestone with approximately 100 units assembled.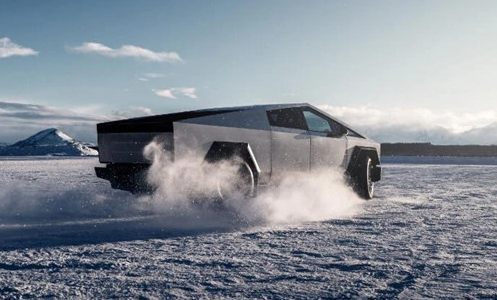 The latest updates from various sources suggest that Tesla's plans for mass production of the electric pickup, initiated in July, are gaining momentum. Aerial footage shared on social media on a recent Monday revealed the arrival of production equipment for the Cybertruck at the Texas Superfactory. In the video, semi-trucks laden with industrial robots can be seen on the factory premises, with cranes actively unloading the machinery.
Prominently, the packaging on two of the industrial robots bore the label "CT Zone X," strongly hinting at their role in the Cybertruck production line and specifying their installation area within the factory.
Furthermore, the aerial footage also captured the presence of five Cybertrucks within the vicinity, with three of them situated in a designated collision testing area. This sight echoed a previous occurrence when two Cybertrucks were parked near the collision testing laboratory at the Texas Superfactory. Speculation arose that Tesla might be conducting its own collision tests to gather additional data on the vehicle's performance in such scenarios, similar to tests carried out by the National Highway Traffic Safety Administration (NHTSA).
The installation of production equipment signals the advancing progress of Tesla's electric pickup truck manufacturing line. It's important to note that building an entire production line, complete with necessary equipment, is a complex and time-consuming endeavor. Tesla had previously mentioned the installation of production equipment in their Q2 earnings report released on July 19, indicating their commitment to expeditiously ramping up Cybertruck production.