August 24, 2023 – The latest reports from tech enthusiasts have unveiled an exciting development for users of the Samsung Galaxy Fold 4 foldable smartphone. A much-anticipated update to the device's software, known as One UI 5.1.1, has started making its way to users' devices. This significant software upgrade brings a host of innovative features and enhancements that promise to elevate the user experience to new heights.
At the forefront of this update are several enhancements that revamp the multitasking capabilities, user interface, and interaction modes of the Galaxy Fold 4. Among these improvements is the refined multitasking interface that facilitates smoother transitions between apps. The taskbar, too, has received a makeover, aiming to make app switching more intuitive and efficient.
Innovations extend beyond the traditional, as Samsung introduces a novel vertical interaction mode, tailor-made for the upright orientation of the device. This mode is poised to reshape how users engage with their apps, optimizing the experience for tasks in portrait orientation.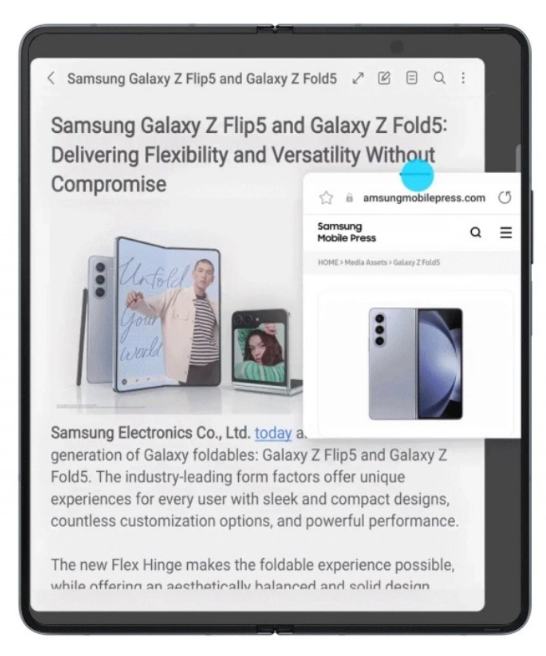 The update also introduces "S Share," an intriguing feature that facilitates seamless file transfers and content sharing between compatible Samsung devices. Additionally, the Samsung Health app has undergone enhancements, likely geared towards promoting users' well-being through added features and improvements.
Photography aficionados will also find reasons to rejoice, as the camera and gallery applications have undergone refinements. These refinements are expected to enrich the photo-capturing experience and provide more intuitive ways to manage and showcase those cherished memories.
Delving into finer details, users can now effortlessly transition from pop-up views to split-screen mode, boosting productivity and multitasking on-the-fly. Even the S Pen, a hallmark of Samsung's devices, is now endowed with the ability to peek at minimized apps, enhancing its usability in novel ways.
Last month's unveiling of the One UI 5.1.1 beta set the stage for this comprehensive update. Samsung's commitment to improving user experiences across its foldable smartphones, tablets, and smartwatches is evident in the broad rollout plan. The Galaxy Z Fold 4 and Z Flip 4 are slated to be the first beneficiaries of this update, followed closely by the Z Fold 3, Z Flip 3, Z Fold 2, and Z Flip.
As a testament to Samsung's dedication to user-centric innovation, the One UI 5.1.1 update breathes new life into older foldable models. Features like the customizable Flex Mode panel and multi-window mode empower users to harness the power of their devices in unique ways. The ability to simultaneously open and use two apps without interrupting media playback opens doors to unprecedented multitasking capabilities.