May 12, 2023 – A New Chapter for Apple: Online Store Launches in Vietnam
In an exciting announcement, Apple has revealed its plans to unveil the highly anticipated Apple Store online in Vietnam. The tech giant aims to provide customers in Vietnam with a seamless shopping experience and closer interactions with Apple team members.
Through a carefully crafted press release, Apple disclosed that the online Apple Store will bring the exceptional services and personalized support offered at Apple's retail stores worldwide, delivered by knowledgeable Vietnamese experts. This marks a significant milestone for Apple as it expands its digital presence in one of Southeast Asia's thriving markets.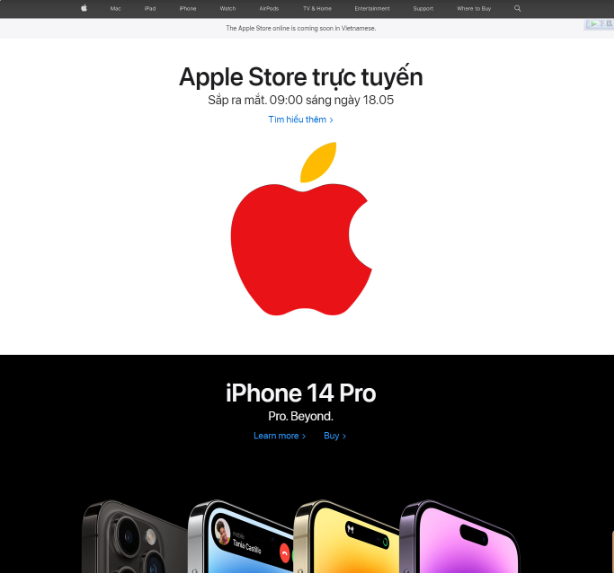 By accessing the Apple Store online, Vietnamese customers will enjoy the convenience of browsing and purchasing Apple products in both Vietnamese and English. The availability of language options will empower customers to explore the latest offerings, discover innovative features, and gain insights into making a smooth transition to the iOS ecosystem.
With the official launch date set for May 18, Apple encourages customers to visit their website starting today to access more information about the forthcoming Apple Store online in Vietnam. This move demonstrates Apple's commitment to enhancing customer experiences and catering to the needs of tech enthusiasts in Vietnam, further solidifying their position as a leading global technology brand.
As Apple embarks on this new venture, it opens doors for Vietnamese customers to effortlessly embrace the world of Apple and immerse themselves in the array of cutting-edge products and services it has to offer. The arrival of the Apple Store online in Vietnam is set to revolutionize the way customers connect with the brand, heralding a new era of digital commerce in the country.