November 15, 2023 – Last week, officials in the state of Georgia announced that the American electric vehicle startup Rivian has signed an agreement with the state, granting approval for the construction of an electric vehicle factory in the Stanton Springs Industrial Area, east of Atlanta.
According to the agreement, Rivian will lease land and machinery to operate the factory, with the company expected to pay approximately $300 million in property taxes (approximately ¥21.81 billion RMB). The factory is also projected to produce Rivian's next-generation R2 platform for future vehicle models.
Rivian initially revealed plans in 2021 to build a $5 billion (approximately ¥363.5 billion RMB) electric vehicle factory in the outskirts of Atlanta, Georgia. As outlined, the new facility will employ over 7,500 workers and is set to produce over 400,000 vehicles annually.
"This is a momentous day," stated JDA and GDECD in a joint declaration. "Leasing the site to Rivian is the next step in realizing this generational opportunity and creating employment opportunities for residents of Jasper, Morgan, Newton, and Walton counties in Georgia."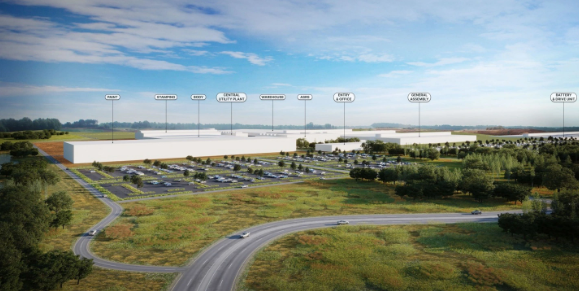 Situated near the I-20 corridor east of Atlanta, close to the historic Walton County community of Social Circle and bordering Morgan County, the factory marks Rivian's second manufacturing facility after the one in Normal, Illinois, which produces the R1T pickup and R1S SUV.