August 22, 2023 – In a recent development that has caught the tech world's attention, Roland Quandt took to Twitter today to unveil a sneak peek into the upcoming Samsung Galaxy Tab A9 tablet. This intriguing glimpse comes courtesy of the South Korean regulatory authority, Safety Korea, where Quandt stumbled upon real-life images of the tablet's front panel.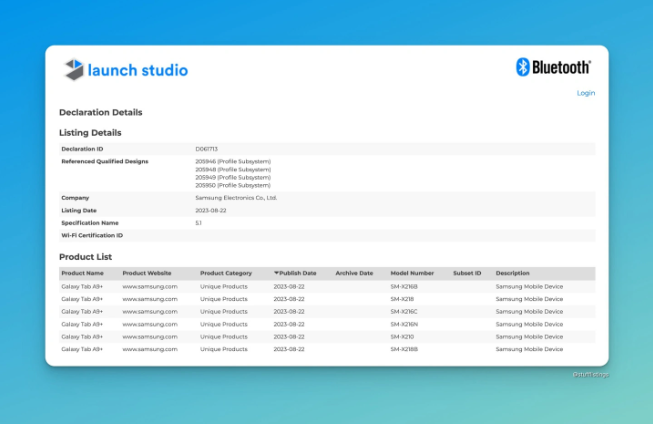 Although these images leave much to the imagination, they do manage to confirm one aspect – the tablet's innovative centered punch-hole design. The rest of the details, such as the bezel size and additional features, remain tantalizingly concealed.
Moreover, the Galaxy Tab A9+ has made discreet appearances on both the Bluetooth SIG website and India's BIS regulatory body. While these sightings have ignited speculation, concrete details about the Galaxy Tab A9+ are yet to surface.
Initial reports suggest that the Samsung Galaxy Tab A9 will sport an 8-inch display, positioning it as a potential successor to the existing 8.7-inch Galaxy Tab A7 Lite. The latter was introduced to the market in the summer of 2021 with a modest price tag of $159.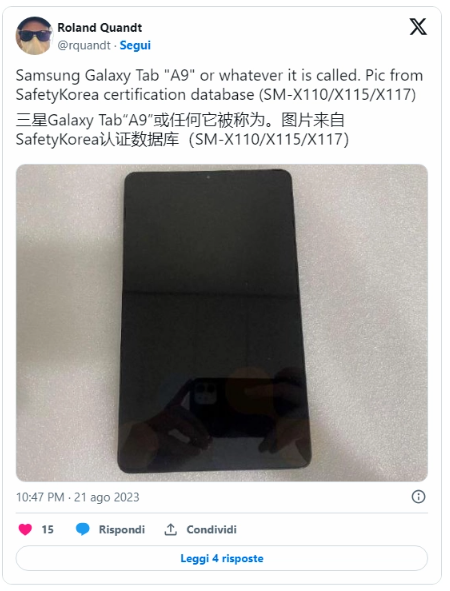 Amidst the flurry of leaks and rumors, the Federal Communications Commission (FCC) certification documents provide a glimpse into the Galaxy Tab A9's specifications. Set to support 4G LTE connectivity, the tablet will house a 5100mAh battery identical to its A7 Lite counterpart. Additionally, Samsung enthusiasts will be pleased to know that the tablet retains the cherished 3.5mm headphone jack. The inclusion of the 15W Samsung EP-T1510 USB-C charger ensures efficient power delivery.
Size-wise, the FCC documentation discloses that the Galaxy Tab A9 measures at 210.7mm x 124.7mm. For reference, the dimensions of the Galaxy Tab A7 Lite stand at 212.5mm x 124.7mm.