October 13, 2023 – Google recently announced that starting this Thursday, the company's "Search Generative Experience" (SGE) will allow users to create images directly based on text prompts.
According to information from Google's official statement, there are times when users are searching for specific images but can't find exactly what they are looking for. To address this, Google is introducing an AI-powered generative search experience called SGE, beginning today. For instance, if a user wants to create a card for a friend who loves cooking and their favorite animal is a capybara, they can use this feature to search for something like "draw a capybara wearing a chef's hat and cooking breakfast." SGE will provide up to four generated images in the results. Users can further edit the descriptions and add more details to bring their vision to life.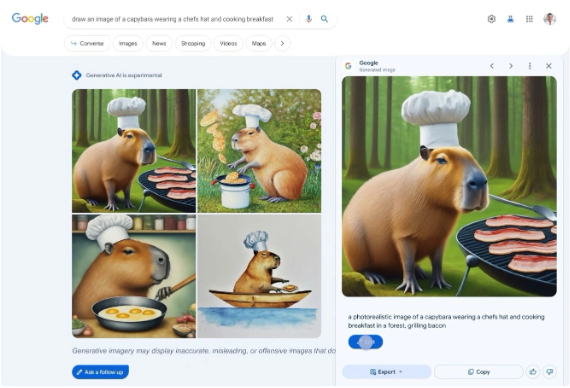 Google has also introduced a feature called "About This Image" within SGE, which helps people easily assess the background and credibility of the images. For instance, it might show users the time when Google first spotted a similar version of this image or display other web pages using similar images, including news articles or fact-checking websites.
Furthermore, Google has incorporated a written draft feature into SGE. Users can use this feature to refine their drafts or make them more casual in tone. When users are ready to add a personal touch, they can effortlessly export the draft to Google Docs or Gmail.
These new AI features are now part of Google's Search Labs program, and users can sign up and apply to experience them through Google applications or the Chrome client.