**September 19, 2023 -** In a remarkable milestone for Tesla, the installation of their 50,000th Supercharger station took place last week. This significant event was graced by the presence of a rather special guest – the highly-anticipated electric pickup truck, the Cybertruck, which has yet to commence deliveries.
Tesla, renowned for pioneering advancements in the electric vehicle industry, has been steadfastly expanding its global charging infrastructure, with the number of Supercharger stations and charging points continually on the rise.
Located at a Supercharger station in Roseville, California, the 50,000th Supercharger station stands out with its distinctive red paint job, a departure from Tesla's customary white and red color scheme for Superchargers.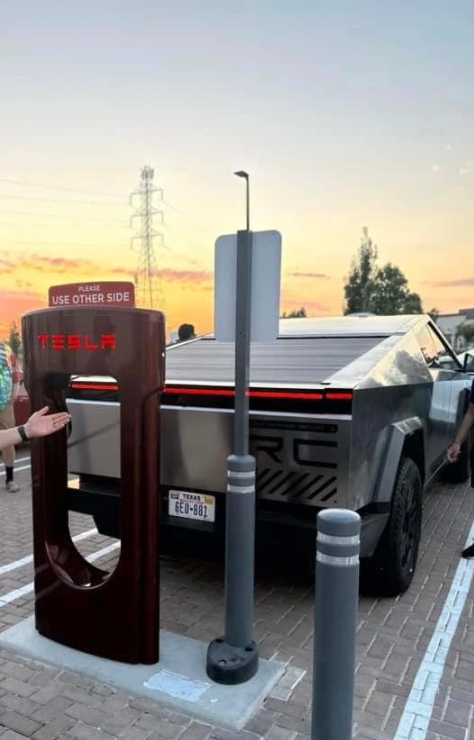 The charging session of the Tesla Cybertruck at this iconic 50,000th Supercharger station was witnessed by local enthusiasts who eagerly shared photographs across social media platforms and Tesla Cybertruck owner forums.
Adding a Texan touch to the occasion, this particular Cybertruck, slated to begin deliveries later this year, boasts a Texas dealer's license plate. It's worth noting that the Cybertruck is manufactured at Tesla's Gigafactory in Austin, Texas.
Production of the Cybertruck began in July at the Texas Gigafactory, and sightings of prototypes have been reported in various locations across the United States. This suggests that the vehicles are undergoing final testing before they hit the streets. Previous reports even indicated that nine Cybertrucks were transported to the factory in Fremont, California, further underscoring the anticipation surrounding the vehicle.
The Cybertruck, Tesla's inaugural electric pickup truck, was unveiled in November 2019 and garnered an astonishing 250,000 pre-orders within its first week. Recent data from institutions suggests that the pre-order count has now exceeded two million units, highlighting the substantial demand for this groundbreaking vehicle. In terms of order value, the Tesla Cybertruck has already amassed over $80 billion in orders, with $200 million in deposits secured.