October 16, 2023 – In a surprising turn of events, AlexSmitk, a former developer at Sony Interactive Entertainment's (SIE) first-party game studio Bend Studios, made revelations on the X platform yesterday. He claimed that Sony is planning to acquire Bandai Namco to counter Microsoft's acquisition of Activision Blizzard.
Earlier this year, Sony's current CEO, Jim Ryan, upon learning of Microsoft's intentions to acquire Activision Blizzard, attempted a series of negotiations with Microsoft to force them to abandon the acquisition. However, these talks quickly fell apart, prompting Jim Ryan to adjust the company's strategy. Sony decided to "wait for the regulatory authorities to block the Blizzard acquisition while simultaneously seeking new acquisition targets outside of Bungie." Ultimately, the choice fell upon Bandai Namco.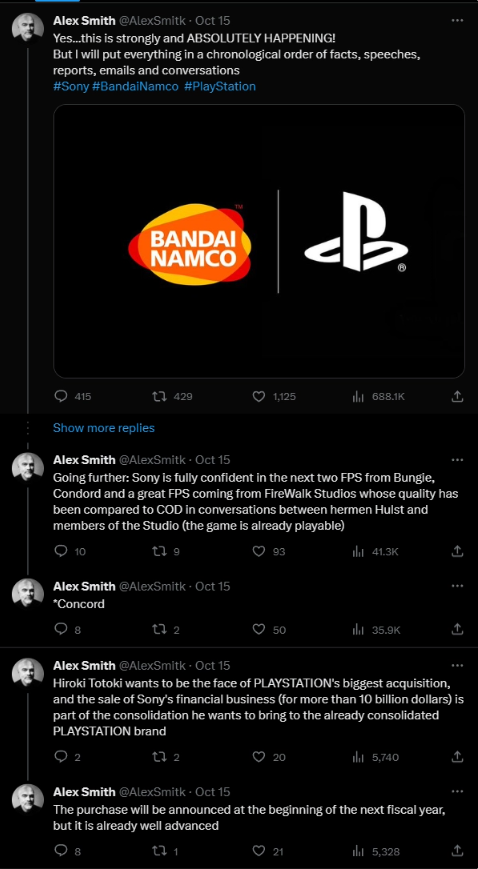 AlexSmitk emphasized that Sony's key figures, Yoshida Kenichiro and Jim Ryan, had already engaged in discussions regarding the acquisition of Bandai Namco, and both parties exhibited a positive intent.
If Sony successfully completes the acquisition of Bandai Namco, it will mark the largest acquisition in the history of Sony Corporation. Consequently, Yoshida Kenichiro is deeply committed to this acquisition. To strengthen their position, Yoshida Kenichiro plans to sell Sony's financial business, valued at over $10 billion, to raise additional capital (approximately ¥731 billion RMB).
AlexSmitk also mentioned that the specific announcement of Sony's acquisition of Bandai Namco will be made at the beginning of Sony's next fiscal year (after March next year). Sony's move is aimed at countering Microsoft's acquisition of Activision Blizzard.