July 27, 2023 – Samsung, the South Korean tech giant, astounded the world last night with its much-awaited Galaxy Unpacked event. The virtual stage was set, and Samsung showcased its latest innovations, unveiling the groundbreaking Galaxy Z Flip5 and Galaxy Z Fold5 smartphones.
In a bold move aimed at attracting Apple's user base, Samsung introduced a tempting "Trade Up and Upgrade" campaign on its official website. iPhone owners were offered an unprecedented deal with up to $1000 in trade-in value, enticing them to make the switch to the world of Samsung's foldable wonders.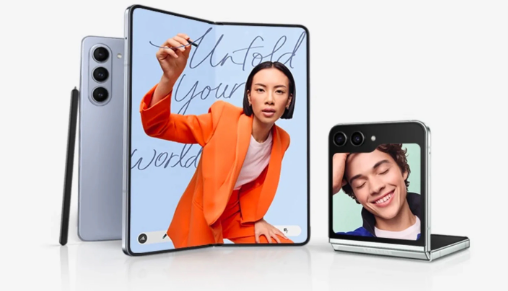 Under this intriguing offer, loyal Apple users had the opportunity to part ways with their current iPhone 13 Pro Max and iPhone 14 Pro Max models and, in return, receive a significant $1000 discount on the purchase of the new Galaxy Z devices. For those with iPhone 12 Pro Max and iPhone 14 Pro models, Samsung was still generous, granting them an $800 trade-in value for their old devices.
However, the surprises did not end there. Samsung aimed to sweeten the deal even further for customers opting to invest in their latest flagship products. For a limited time, they offered an exclusive "Upgrade Your Storage" privilege, allowing users to enjoy a complimentary upgrade to the 512GB variant.

The Galaxy Unpacked event left tech enthusiasts buzzing with excitement, and the new offerings from Samsung seemed poised to challenge Apple's stronghold on the market. With the promise of cutting-edge technology and enticing trade-in benefits, Samsung's Galaxy Z series presented a compelling choice for consumers looking to embrace innovation and redefine the way they experience smartphones.
As the battle for smartphone supremacy continues to unfold, the competition between Samsung and Apple intensifies, igniting the passions of fans and tech aficionados alike. Only time will tell how these latest developments will reshape the landscape of the mobile industry, but for now, the stage is set for a thrilling showdown between two giants of the tech world.