November 17, 2023 – The collaboration between Samsung Electronics and BOE Technology seems to have reached its conclusion. According to Businesskorea, Samsung has removed BOE from its supply chain. BOE, a supplier of LCD panels to Samsung, contributed 10% of TV panels in the first quarter of 2023. However, in the third quarter of the same year, Samsung's Device Experience (DX) department decided to exclude BOE from the supply chain for TV and monitor panels.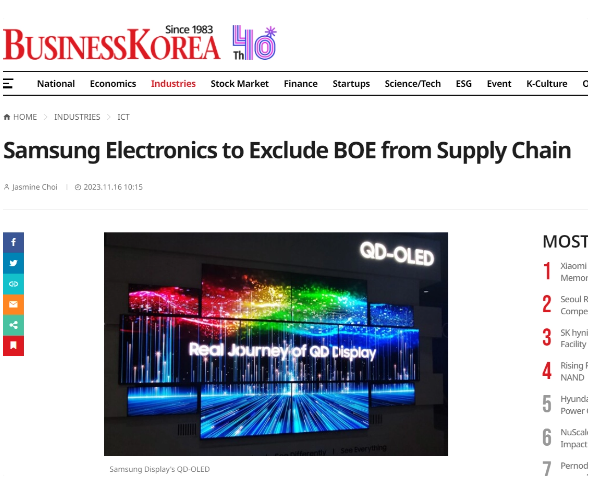 Furthermore, Samsung Electronics reportedly intends to sever ties with BOE in the medium to long term. Samsung's decision has had a negative impact on BOE, leading to a decline in market share in the third quarter. Market observers believe that Samsung's move to cut ties with BOE and remove the company from its panel supply chain is related to the ongoing legal disputes between Samsung Display and BOE.
Earlier this year, Samsung Display initiated an investigation with the International Trade Commission (ITC) against Chinese wholesalers, alleging the unauthorized use of stolen patents and technology to manufacture and sell "clone" organic light-emitting diode (OLED) panels. While not directly targeting BOE initially, the investigation expanded, and the ITC began looking into BOE's transactions.
Months later, BOE responded by filing multiple lawsuits against several branches of Samsung in China. In November, for the first time since the conflict began, Samsung Display directly filed an ITC complaint against BOE.
Industry insiders suggest that Samsung Electronics is seeking to strengthen collaborations with other suppliers, including LG, Sharp, and AU Optronics (AUO). This move might be attributed to Samsung Electronics' perception that the conflicts between its display division and BOE have introduced too much instability and unpredictability into its supply chain.