November 07, 2023 – OpenAI Unveils "Copyright Shield" at First Developer Conference
At today's inaugural OpenAI Developer Conference, OpenAI introduced a new feature called "Copyright Shield," aimed at alleviating concerns regarding potential copyright infringement associated with AI-generated content.
OpenAI states that if users face "copyright infringement" claims related to AI-generated content and are legally compelled to pay damages, OpenAI will step in to defend its customers and fully reimburse any associated costs.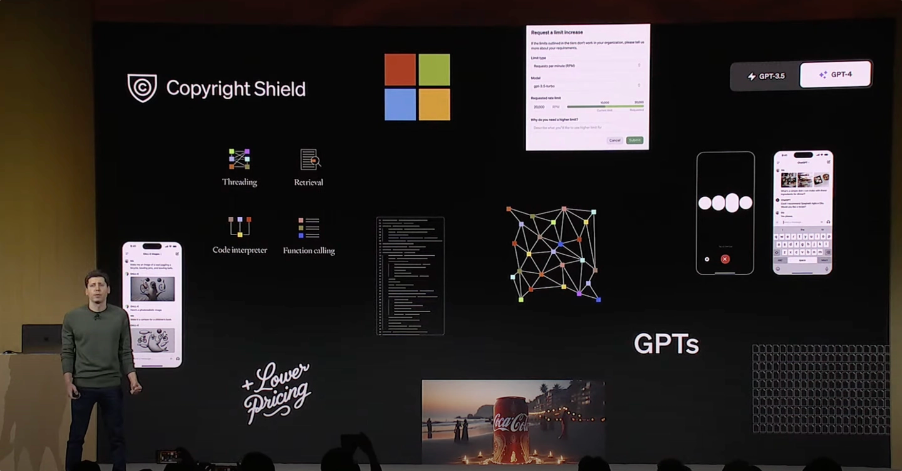 The "Copyright Shield" functionality is applicable to both ChatGPT Enterprise and all API users, provided that the users themselves had no intent of copyright infringement and adhered to responsible AI usage practices, including proper citation of sources.
OpenAI's introduction of "Copyright Shield" is described as follows:
OpenAI is committed to safeguarding our customers through built-in copyright protection within our systems.
AI models like ChatGPT, GPT-4, and DALL·E 3 learn from examples to generate text, code, create artwork, music, and even write lyrics to accompany that music. These AI tools have been trained on hundreds of millions to billions of text documents, art pieces, emails, songs, audio clips, and recordings, with the majority originating from public sources.
Some of these examples are considered part of the public domain, at least from OpenAI's perspective as data scraped from the web. These data sources did not impose any restrictive licenses on OpenAI.
In a recent survey conducted by Acrolinx among Fortune 500 companies, nearly one-third of respondents expressed intellectual property concerns as their biggest worry when using generative AI. Another public opinion poll found that 9 out of 10 developers consider intellectual property protection as a significant factor when deciding to employ generative AI.
Some generative AI providers promise financial and other safeguards for customers using their AI-generated tools, while others have implemented policies to absolve themselves of responsibility, leaving customers to handle any legal bills.
However, companies like IBM, Microsoft, Amazon, Getty Images, Shutterstock, and Adobe have explicitly stated that they will cover users' expenses if they encounter issues. Today, OpenAI officially joins this group of companies dedicated to protecting their users.