**August 16, 2023 – Unveiling the Future: Tesla's FSD V12 Software**
In the ever-evolving landscape of autonomous driving technology, Tesla's Full Self-Driving (FSD) capability remains a focal point of discussion. The anticipation among users is palpable, with some expressing their eagerness for the next iteration, while others harbor concerns about its stability. Nevertheless, Elon Musk, the enigmatic CEO of Tesla, took to the X platform yesterday to announce an intriguing development – the live streaming of Tesla's FSD software version 12.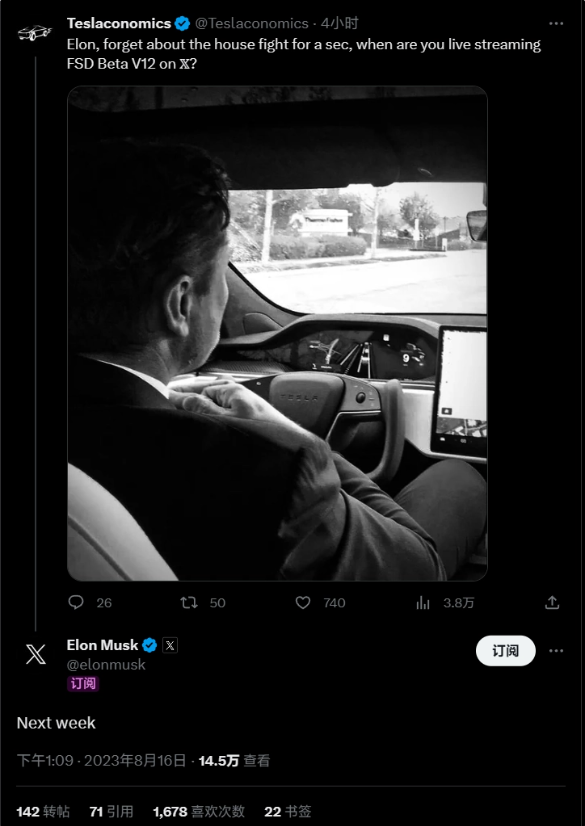 A proactive X platform user initiated the conversation, posting a query to Musk: "Elon, let's put the Zuckerberg scuffle aside for a moment. When are you planning to live stream the FSD test version V12 on the X platform?" In a characteristically succinct reply, Musk simply stated, "Next week."
This isn't the first time Musk has turned the spotlight onto FSD V12. In a post back in July of this year, he hinted at his involvement in testing the FSD 12 Alpha version, describing it as "exciting."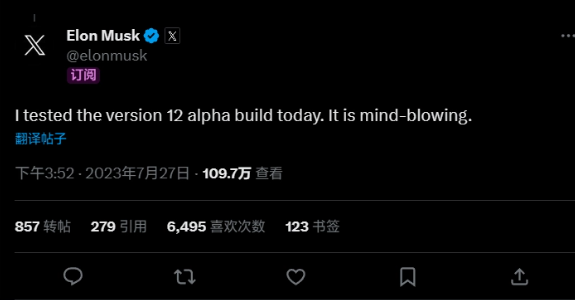 Back in June, Musk had already set the tone by asserting that FSD V12 would not be a mere test version. He went a step further, elucidating that this iteration of FSD would operate on an "end-to-end, full self-driving AI" model, effectively discarding the reliance on traditional high-definition maps and navigation data.
The developments surrounding FSD V12 have undeniably captured the attention of the tech world. While the excitement mounts for the upcoming live stream, it's crucial to remember that the journey towards fully autonomous driving involves rigorous testing and fine-tuning. Balancing innovation with safety remains paramount as Tesla continues to push the boundaries of self-driving technology.