June 26, 2023 – In an exciting development, Meta, the parent company of Facebook, is preparing to launch a highly anticipated social media platform in mid-July. This ambitious project, internally known as "Project 92" and potentially named "Threads," has been the subject of speculation since March of this year. While specific details remain undisclosed, Meta has high hopes for the platform, initially planning to promote it within their photo-sharing platform, Instagram. They anticipate attracting tens of millions of users within a matter of months.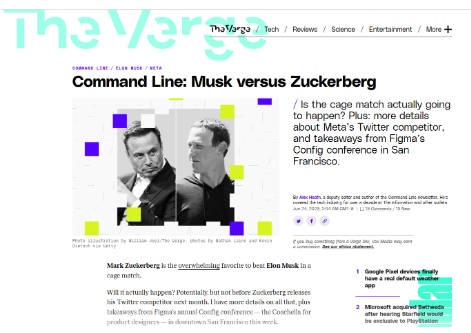 The significance of "Threads" extends beyond Meta's internal buzz, as the company aims to position it as an excellent alternative to the current state of chaos on Twitter. Meta has been actively reaching out to various celebrities, engaging in promotional activities to emphasize the platform's promising functionality and appeal. With Meta's extensive resources and the potential integration of decentralized social media platform Mastodon, "Threads" might offer a decentralized approach to social networking.
In other news, recent headlines have been captivated by a virtual duel between two tech titans, Mark Zuckerberg and Elon Musk. Both influential figures have plans for an intriguing showdown, labeled as the "Cage Match." Regardless of the outcome, the clash between Musk and Zuckerberg promises to be an enthralling spectacle for tech enthusiasts worldwide.