June 9, 2023 – The Japanese government convened the Intellectual Property Strategy Headquarters meeting this morning to announce the unveiling of their strategic plan for intellectual property in Japan.
The plan places a significant emphasis on addressing the issue of copyright infringement related to generative AI. The government of Japan has expressed its intention to initiate discussions on relevant legal matters and consider necessary measures.
According to the plan, the primary focus regarding the relationship between generative AI and intellectual property revolves around "appropriately addressing external concerns and potential risks to facilitate the development, provision, and use of generative AI." Additionally, the Japanese government acknowledges the imperative need for "swift and flexible responses" to tackle these concerns.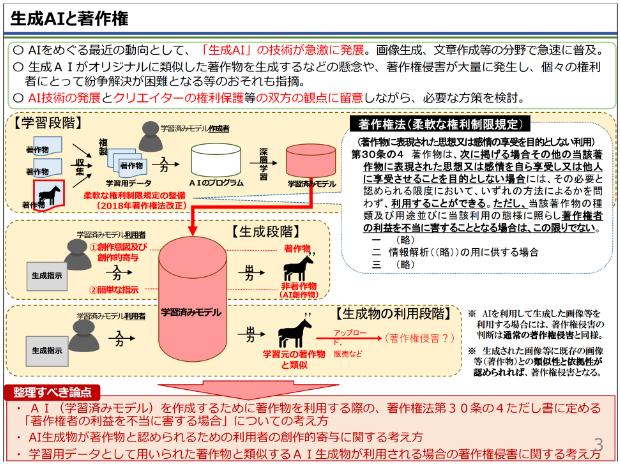 The plan also highlights the necessity of defining the boundaries of copyright infringement concerning generative AI. Several conceptual questions need to be clarified in this regard. Firstly, what level of contribution by a user would classify the AI-generated work as an original creation deserving copyright protection? Secondly, how similar should an AI-generated work be to the original in order to qualify as a copyright infringement? Lastly, how should the provision stated in Article 30-4 of the Copyright Act, which addresses "unreasonably prejudicing the interests of the copyright holder," be interpreted?
In 2018, Japan revised and implemented Article 30-4 of the Copyright Act, allowing AI to freely research copyrighted works without the permission of the copyright holder. However, this provision includes the caveat that it should not "unreasonably prejudice the interests of the copyright holder." Critics argue that this wording is too ambiguous, and creators desire the right to prohibit the use of their works for training generative AI.
Previously, there has been intense public discourse in Japanese society concerning the copyright issues surrounding generative AI. Notably, the publishing company Shueisha halted the sales of their first generative AI-created model photo book, citing concerns about insufficient consideration of copyright risks.