August 07, 2023 – Intel On 2023: Unveiling the Future of Consumer Hardware and AI Integration In the vibrant city of San Jose, California, Intel is all set to kick off its highly anticipated "Innovation 2023" event on September 19, according to the official Intel website. Over the course of two thrilling days, the conference promises a plethora of enriching sessions, with one particular event stealing the spotlight – "Intel Client Hardware Roadmap and the Rise of AI."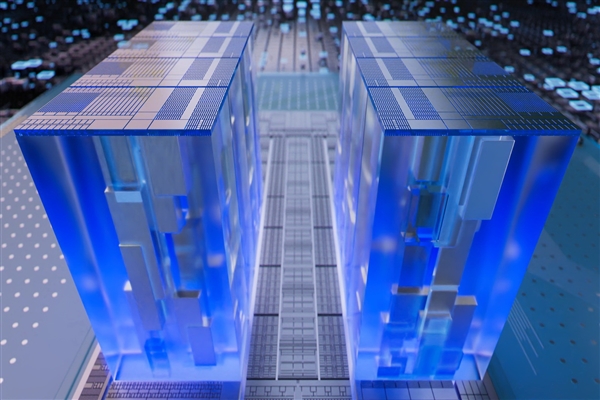 Attendees at this event can expect Intel to reveal its vision for the future of consumer-grade hardware platforms, including the much-awaited "Meteor Lake," the brand-new Core Ultra series. Alongside this, Intel will lay out its ambitious roadmap for the years ahead.
A central focus of the event will be on AI, which is set to redefine the landscape of computing. The Core Ultra processors will come equipped with dedicated VPU AI hardware units, stemming from the technology acquired from Movidius, a company specializing in visual processing modules. This marks Intel's first foray into integrating AI engines into its consumer-grade products, rivaling AMD's Ryzen 7040 series, which efficiently handles low-load AI inference tasks, particularly in image, video, and audio processing. Functions like dynamic background blurring and voice noise reduction are set to become even more seamless and sophisticated.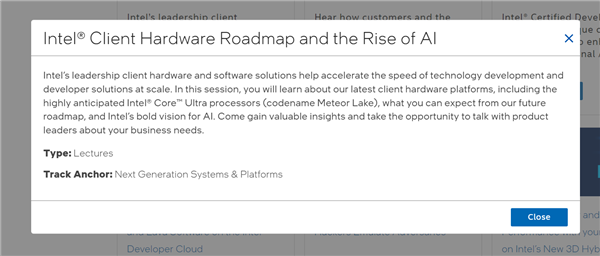 Meteor Lake will debut with Intel 4 manufacturing technology (formerly known as 7nm), marking a significant leap in performance and energy efficiency. It will also pioneer the chiplet design, breaking down CPU, GPU, SoC, and IO into independent chiplets to optimize design and overall performance.
The CPU architecture will undergo a remarkable upgrade, with Redwood Cove serving as the primary big core architecture and Crestmont powering the smaller cores. Expect up to 6 big cores and 8 small cores, complemented by two ultra-low-power LPE cores within the SoC Die, culminating in a 6+8+2 configuration, boasting 16 cores and 22 threads.
As for the GPU, Meteor Lake will embrace the Xe LPG architecture, with a maximum of 8 Xe cores to enhance graphics performance and elevate user experiences.
The "Innovation 2023" conference promises to be an exhilarating showcase of Intel's cutting-edge advancements in consumer hardware and its commitment to harnessing the potential of AI. With Meteor Lake leading the way, Intel aims to shape the future of computing and redefine the boundaries of innovation in the tech industry.