**August 8, 2023 – A New Era Dawns: Mazda Introduces Touchscreen Experience in 2024 CX-5**
In a groundbreaking move set to redefine the driving experience, Mazda has unveiled its latest offering for the upcoming 2024 CX-5 model. Long known for its unique approach to in-car entertainment, Mazda has now embraced a transformative change that addresses a common concern among enthusiasts – the integration of touchscreens to elevate the usage of Android Auto and Apple CarPlay.
For years, Mazda vehicles have been synonymous with the "Commander Control Knob," a distinctive feature allowing users to navigate their infotainment display. Although the knob proved effective within Mazda's proprietary operating system, its compatibility with Android Auto and CarPlay often posed challenges. The intuitive nature of these smartphone-based platforms required a more tactile approach, one that the rotary knob struggled to deliver.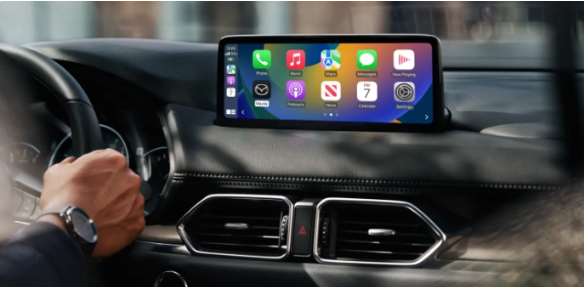 Anticipating the needs of modern drivers, the 2024 CX-5 heralds a new era with the introduction of a 10.25-inch touchscreen across all models. This shift not only ushers in the convenience of touch-responsive interfaces but also enhances the overall usability of Android Auto and Apple CarPlay, aligning seamlessly with the fluid navigation these platforms demand.
Scheduled for a fall release later this year, the 2024 Mazda CX-5 is poised to make its mark on the automotive landscape. With a starting price of $29,300, this innovative iteration combines the reliability and design elements Mazda is celebrated for with the contemporary integration of touchscreen technology.
As Mazda takes this leap toward a more interactive and intuitive driving experience, it's evident that the 2024 CX-5 will not only satisfy existing fans but also captivate a broader audience seeking seamless connectivity and enhanced in-car entertainment. This stride toward innovation reinforces Mazda's commitment to staying at the forefront of automotive technology and consumer preferences.