May 31, 2023 – In a grand unveiling event today, Faraday Future officially introduced their flagship model, the FF91, at the FF 91 & Faraday Future Future 2.0 Ultimate Launch Event. Priced at $309,000, the FF 91 2.0 Futurist Alliance edition (equivalent to approximately 2.188 million Chinese Yuan) will commence its first phase of deliveries on May 31st, with a focus on the US market until the end of 2023.
Upon visiting the FF official website's reservation page, it becomes apparent that the FF 91 lineup has undergone an update to its 2.0 variant, offering three models: the FF 91 2.0, FF 91 2.0 Futurist edition, and FF 91 2.0 Futurist Alliance edition. Reservation fees for the latter start at 50,000 yuan, while the Futurist edition and standard FF 91 2.0 require a reservation fee of 20,000 yuan.
Originally unveiled in 2017, the FF91 was initially promised to enter production in 2018. However, the plan experienced numerous delays, finally materializing after a five-year wait. The specifications of the FF91 are undeniably impressive, boasting a 142 kWh battery providing an EPA estimated range of 381 miles (approximately 613.16 kilometers) and a range exceeding 800 km based on the CLTC standard. Its tri-motor setup delivers a maximum power of 1050 horsepower, allowing for a blistering acceleration of 0-60 mph in just 2.27 seconds in Rocket Boost mode, a top speed of 248 km/h, and support for up to 500A charging.
In terms of design, the FF 91 2.0 retains the essence of its original prototype showcased in 2017. The front fascia features a distinctive LED light strip design, albeit with subtle differences from the prototype. Additionally, the letters "FF" have been rotated counterclockwise by 45 degrees.
During the live stream, Faraday Future introduced their "FF aiHyper 6×4 Architecture 2.0." The company emphasized four key pillars: full artificial intelligence, full superlative capability, full potential, and co-creation. Faraday Future's co-creation platform, referred to as "The Mission Farad," functions as a referral program where users can earn points, named Farads, by recommending friends to download the Faraday Future application. These accumulated points can be redeemed for rewards. In the future, it appears that Faraday Future intends to utilize this platform to gather customer feedback on their vehicles and reward individuals who provide successful feedback or innovative ideas. More details regarding this platform are expected to be unveiled on June 6th during the "Co-Creation Day."
The FF91 boasts a 27-inch rear-seat display, claimed to be the largest in-car screen globally, as well as a "10G in-car network." Each 5G antenna is connected to different mobile carriers, enabling features such as live streaming from within the vehicle and AI-based contextual voice commands. The vehicle also incorporates an infrared camera on the driver's seat for facial recognition, enhancing security. Faraday Future claims that the vehicle's AI technology will enable it to "understand you better than you know yourself."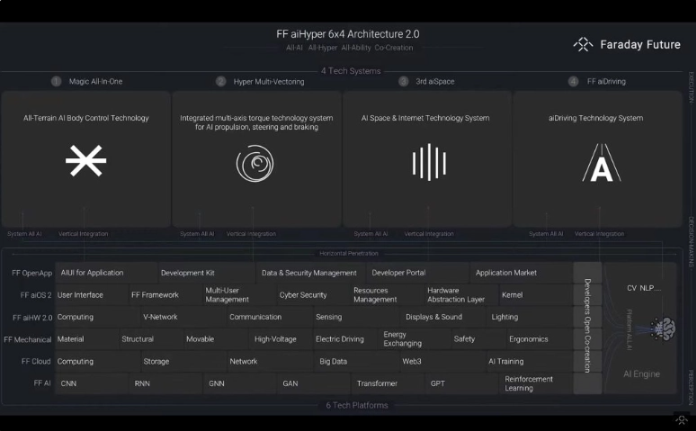 Equipped with "Zero Gravity Seats" that can recline up to 60 degrees, the FF91 even offers a "Spa Mode" for the ultimate relaxation experience. Faraday Future positions their vehicle as the epitome of "ultimate AI technology and luxury." The company's target market is the "super-premium" segment, with controversial founder Jia Yueting comparing the luxury level of the FF91 to renowned brands such as Ferrari, Rolls-Royce, and Maybach.
In terms of autonomous driving, Faraday Future refers to it as "FF aiDriving." This includes features such as AEB (Automatic Emergency Braking), ACC (Adaptive Cruise Control), LCC (Lane Centering Control), intelligent parking, and automated valet parking. While the basic Level 2 assisted driving will be available upon delivery, further upgrades will be delivered through over-the-air updates. In addition to announcing some supported autonomous driving features and upcoming OTA updates, Faraday Future states that the FF91 will have the capability to create custom and proprietary maps.
As for pricing, there are three versions available. The limited-edition "FF 91 2.0 Futurist Alliance" is priced at $309,000 (approximately 2.188 million Chinese Yuan), while the "FF 91 2.0 Futurist" comes with a price tag of $249,000 (approximately 1.763 million Chinese Yuan). The official pricing information for the standard FF 91 2.0 model is yet to be provided.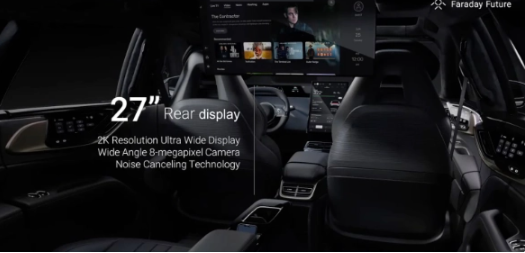 The FF 91 2.0 Alliance version is limited to 300 units globally and comes with exclusive features and privileges. These include a special edition with the founder's signature, personalized AI tuning, unique body colors (bright silver, matte silver, matte black), exclusive wheels, professional race track training for the owner, an Apple Watch with FF vehicle control functions as a standard accessory, and the first 91 customers will receive an interstellar high-speed internet satellite communication kit. The vehicle is also available for pre-order in China with a reservation price of 50,000 Chinese Yuan.
During the event, Faraday Future's CEO, Carsten Breitfeld, emphasized that the FF91 is a "globally oriented product" and will be available for sale in the United States, China, and Europe. He also revealed that the company has established a production base in Hanford, California, and plans to establish another one in Nanjing, China. Breitfeld further disclosed that Faraday Future is collaborating with a "globally leading automotive manufacturer" to expand their production capacity.
Faraday Future proclaims the FF91 as a car "born for the future" that will provide users with an unparalleled driving and riding experience. The company also states that they will continue to develop more vehicle models, including the FF81 and FF71, to cater to different markets and customer needs.