September 1, 2023 – A new dawn breaks as Tesla's latest iteration of the Model 3 sedan steps into the limelight. The rumors that have been swirling around the launch of this highly anticipated model have finally settled, revealing a refreshing blend of innovation and sophistication. The veil has been lifted, and the official website now showcases the captivating new vehicle, complete with its pricing and configurations.
Presenting the Model 3 Renewed Edition: Priced at 259,900 yuan, this version boasts the prowess of rear-wheel drive, delivering a dynamic driving experience that's poised to captivate. On the other hand, the Model 3 Long Range Renewed Edition, priced at 295,900 yuan, stands as a testament to the future with its dual-motor all-wheel drive.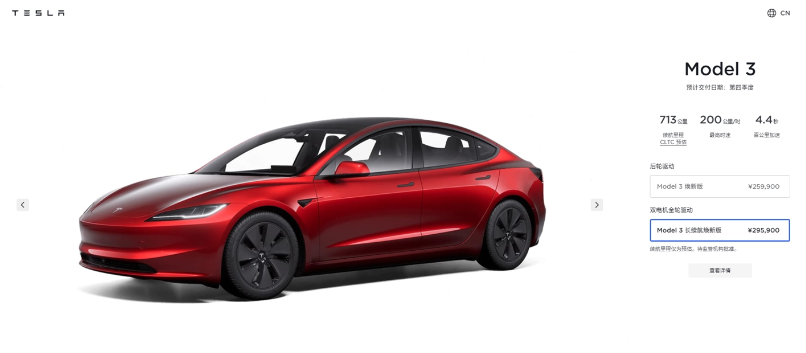 The details unveiled on the official website are nothing short of impressive. For the rear-wheel-drive variant, a remarkable 606 kilometers of CLTC-rated range is offered, alongside a top speed of 200 km/h and an acceleration that propels you from 0 to 100 km/h in just 6.1 seconds.
The Long Range version tells a different story, with a top speed that mirrors its counterpart at 200 km/h. However, its acceleration is decidedly swifter, reaching 100 km/h from a standstill in a mere 4.4 seconds. The icing on the cake is its astounding CLTC-rated range of 713 kilometers, pushing the boundaries of electric mobility even further.
The new Model 3 is not merely a symbol of progress; it's an embodiment of elegance and thoughtful design. A choice of hues awaits the discerning customer, including a sleek Pure Black at no extra cost. For those seeking an extra touch of luxury, the Pearl White and Deep Sea Blue options are available for 8,000 yuan each. Moreover, those with an eye for distinctive style can opt for the Stardust Gray or Blaze Red, albeit for a higher price of 12,000 yuan.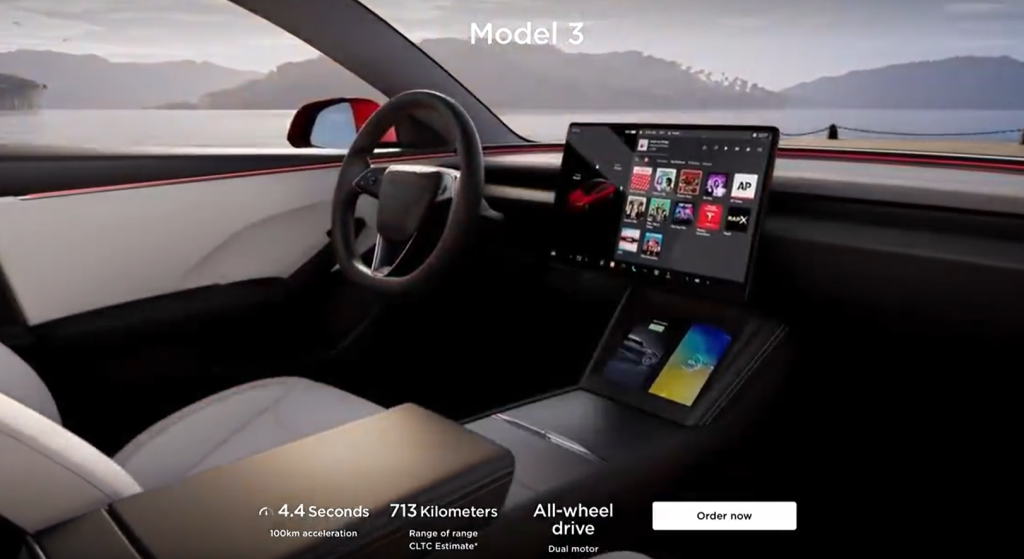 The winds of change have not only swept through the exterior but have also graced the interior. While the acclaimed HW 3.5 smart driving hardware takes the reins, the speculated HW 4.0 remains a topic of anticipation for the future. A trio of new features – the streaming rearview mirror, forward-facing camera, and seat ventilation system – have been seamlessly integrated, raising the bar for comfort and convenience. The tactile gear-shifting experience, reminiscent of the Model S, adds a touch of nostalgia to the driving dynamics.
Enhancing aerodynamics has been a cornerstone of this redesign, as evidenced by the improved drag coefficient of 0.22 – a leap from its predecessor's 0.23. The whispers of a partnership with CATL have come to fruition, as the new Model 3 harnesses the power of NEDC with battery capacities of 66 kWh and 72 kWh for distinct performance tiers.
The realm of intelligent driving assistance remains firmly in focus, with the Enhanced Autopilot and Full Self-Driving (FSD) options still available at price points of 32,000 yuan and 64,000 yuan, respectively. The driving experience is enriched by a 15.4-inch central touchscreen and an 8-inch rear control screen, offering control over seat heating, airflow adjustments, and multimedia playback. The Long Range all-wheel-drive variant enjoys an immersive audio experience composed of 17 speakers, promising a theater-like ambience on the move.
Equipped with an entirely new sealing system and fortified by dual-pane acoustic glass, the Model 3's serenity is pronounced. This newfound tranquility extends to the road, where remote-activated airbags and reimagined door hinges and locks combine to elevate safety to unprecedented heights.
As the sun sets on this era of innovation, the new Model 3 emerges not only as a car but as an embodiment of Tesla's relentless pursuit of excellence. It's a harmonious blend of power, precision, and elegance – a true testament to the future of electric driving.