November 15, 2023 – TikTok has unveiled its latest feature today, introducing the "Add to Music App" functionality that allows users to seamlessly integrate their favorite tunes into Apple Music, Spotify, and Amazon Music.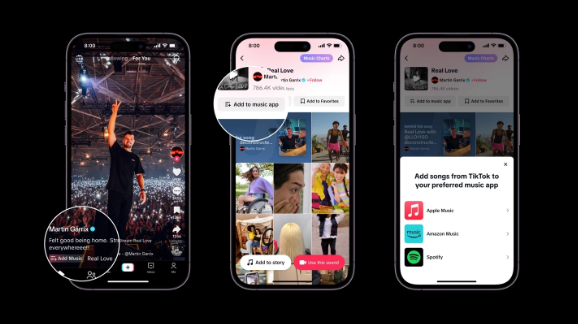 Located at the bottom of the "Discover" page on TikTok, users can now find an "Add Song" button beside the video's background music (BGM) name. By simply clicking this button, users can effortlessly store TikTok-discovered songs into the music libraries of popular streaming platforms. Additionally, the "Add to Music App" feature can be accessed from the artist's details page.
Upon the initial click, users are prompted to manually select their preferred music streaming service. Subsequently, this choice becomes the default setting. For those inclined, the option to choose alternative streaming services (music apps already installed on their phones) is available during the music addition process.
Saved TikTok music will be automatically cataloged as follows:
– Amazon Music: TikTok Song Playlist (or the playlist of your choice)
– Spotify: Liked Songs Playlist
It's worth noting that while this feature supports saving to Amazon Music, it is exclusively available to Prime members and Amazon Music Unlimited subscribers.