June 8, 2023 – A Closer Look at Byd's Innovation: Unveiling the All-New Dolphin
In a remarkable display of technological prowess, renowned publisher Nikkei BP has recently unveiled its latest venture into the realm of automotive exploration. With a rich history of dismantling and meticulously documenting electric vehicles such as Nissan's Leaf, Tesla's Model 3 and Model S, and Volkswagen's ID.3, the Japanese publishing giant now sets its sights on the highly anticipated release of the all-new Byd Dolphin.
Bearing witness to the latest advances in Chinese automotive manufacturing, Nikkei BP's team of seasoned experts embarked on an ambitious project to delve deep into the core of Byd's innovative masterpiece. Their mission: to disassemble the Dolphin, scrutinizing every intricate detail from its sleek exterior to its cutting-edge battery technology, propulsion system, electronic controls, and exquisite interior craftsmanship.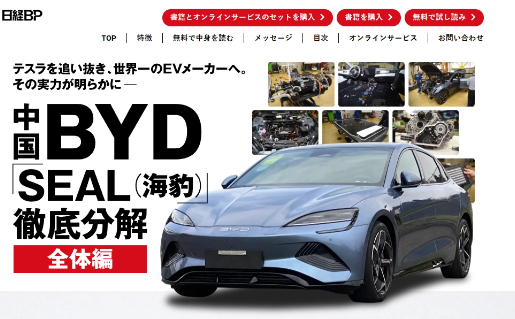 As anticipation reaches a fever pitch, Nikkei BP's Senior Researcher, Hiroshi Karisumi, voiced his excitement over the Dolphin's revolutionary platform. He emphasized the integration of a high-voltage system, a power unit encompassing the vehicle's electric driving controls, and Byd's groundbreaking CTB (Cell-to-Body) technology, where the battery pack seamlessly merges with the vehicle's structural framework. Karisumi urged readers to recognize the significance of these advancements, as they illuminate the evolution of Chinese manufacturers' development policies and design philosophies, poised to shape the future of the global electric vehicle landscape.
Building upon their reputation for comprehensive exploration, Nikkei BP plans to showcase their findings through an array of multimedia mediums. The result will be an immersive experience that encapsulates the Dolphin's essence, presented through meticulously crafted narratives, stunning visuals, captivating videos, and an accompanying book that delves into every aspect of Byd's engineering marvel. Moreover, Nikkei BP will accompany the book with a DVD compilation, ingeniously encapsulating the entirety of the disassembly process into a single disc for readers to further delve into the Dolphin's intricate anatomy.
As the release date draws nearer, automotive enthusiasts and industry insiders eagerly anticipate the arrival of this meticulously crafted literary masterpiece. The Dolphin, with its fusion of technological breakthroughs and visionary design, promises to redefine the boundaries of electric mobility. Nikkei BP's dedication to illuminating the intricacies of Byd's engineering prowess will undoubtedly allow readers to embark on a voyage of discovery, unraveling the secrets behind China's burgeoning electric vehicle industry.
With the official website listing the book's standalone price at 880,000 Japanese yen (approximately 45,000 Chinese yuan), and an all-inclusive package featuring online services priced at 1.32 million Japanese yen (around 67,400 Chinese yuan), Byd's presence in the Japanese market stands as a testament to its successful export endeavors, including models such as the Element PLUS (known as ATTO 3 overseas), Dolphin, and the illustrious Dolphin.
In an era of rapid technological advancement, Nikkei BP's comprehensive breakdown of the Byd Dolphin serves as a beacon of insight, enabling enthusiasts and industry professionals alike to grasp the boundless potential of China's automotive landscape. As the September 15, 2023 release date approaches, readers worldwide eagerly await the unveiling of the Dolphin, poised to make waves in the ever-evolving realm of electric mobility.