July 5, 2023 – Sony's Latest Alpha a6700 Camera Set to Revolutionize the World of Hybrid Creators Sony is gearing up for a game-changing release on July 12th, as they unveil their highly anticipated high-end compact APS-C camera, the Alpha a6700, targeting the thriving community of hybrid creators.
According to insider reports from Sony Rumors, the a6700 camera is expected to push the boundaries of visual excellence. It will feature a cutting-edge 6K 30p video recording capability, empowered by a state-of-the-art 26-megapixel BSI APS-C sensor, the same sensor found in the acclaimed FX30 model. To complement this sensor, Sony has equipped the a6700 with the advanced BIONZ XR image processor, incorporating AI capabilities for unrivaled performance.
The advancements in the a6700 camera are truly remarkable, surpassing its predecessor, the a6600, in several key aspects. Notably, it boasts the ability to record 4K videos at an impressive 120 frames per second, offering creators the opportunity to capture every detail in stunning clarity. With its built-in five-axis in-body image stabilization and an impressive autofocus system boasting over 700 focal points, the a6700 ensures that even the most dynamic shots remain steady and sharply focused.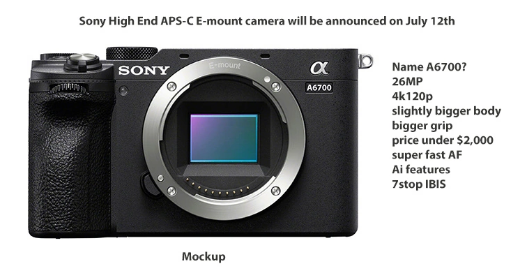 Sony has also paid careful attention to the electronic viewfinder (EVF) of the a6700. While the a6600 features a 2.36-million-dot EVF, the a6700 elevates the viewing experience with a remarkable 3.69-million-dot EVF, providing creators with an even more immersive and detailed framing experience. Furthermore, reports suggest that the camera will introduce a new internal focus stacking feature, enabling users to achieve impressive depth-of-field effects in their shots.
As hybrid creators eagerly await the launch of the Alpha a6700, it is evident that Sony is determined to redefine the boundaries of what is possible in the world of compact APS-C cameras. With its exceptional video capabilities, advanced image processing, and improved ergonomics, the a6700 is poised to empower creators and deliver unparalleled image quality, cementing its position as a groundbreaking tool for the next generation of visual storytellers.