June 30, 2023 – The highly anticipated release of the NVIDIA RTX 4060 graphics card has stirred excitement among tech enthusiasts. NVIDIA, known for its cutting-edge technology, set the suggested retail price for the RTX 4060 at 2,399 yuan. However, to the surprise of many, several manufacturers have introduced entry-level models starting at 2,499 yuan.
According to reports from Bo Ban Tang, the recent rise in exchange rates prompted NVIDIA to inform its partnering manufacturers that a price increase to 2,499 yuan would be acceptable. As a result, the base model of the RTX 4060 by MSI's subsidiary, Ventus, is now priced at 2,499 yuan, surpassing NVIDIA's suggested retail price.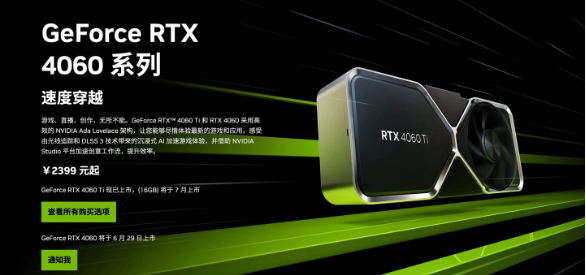 Now, let's delve into the specifications of the RTX 4060 graphics card. Equipped with 3,072 CUDA cores, the RTX 4060 boasts an impressive boost frequency of up to 2.46GHz. With 8GB of 128-bit memory, this desktop card shares similar specifications to its mobile counterpart. The power consumption remains at 115W, with an average gaming power draw of just 110W, and an idle power draw as low as 7W. Notably, compared to the previous generation, the RTX 4060 demonstrates a significant decrease in power consumption.
According to information released on the official NVIDIA website, the performance of the RTX 4060 is 1.7 times that of the RTX 3060 when the exclusive frame rendering technology of the RTX 40 series is enabled. Even when the frame rendering technology is disabled, the RTX 4060 still delivers a 1.2x performance boost compared to the RTX 3060.
The introduction of the RTX 4060 has undoubtedly sparked interest within the gaming community and technology enthusiasts alike. As the graphics card market continues to evolve, NVIDIA's latest offering promises improved performance and efficiency, setting new standards for desktop gaming experiences.