July 28, 2023 – AMD Unveils Revolutionary R9 7945HX3D Mobile Processor with Groundbreaking 3D V-Cache Technology In a groundbreaking announcement today, AMD has taken the mobile computing world by storm with the unveiling of their latest marvel: the R9 7945HX3D mobile processor. Sporting the innovative 3D V-Cache technology, this processor promises to redefine the performance capabilities of laptops and notebooks everywhere.
Equipped with an impressive 16 cores and 32 threads, the R9 7945HX3D boasts a blistering boost frequency of 5.4GHz. However, it's the sheer size of the L2+L3 cache, now an astounding 144MB, that sets this processor apart from its predecessor, the R9 7945HX, which featured an 80MB cache.
Performance-wise, the impact of the 3D V-Cache technology is remarkable. Under a 70W TDP, gaming performance experiences an astounding 11% boost, while a 40W TDP sees an impressive 23% improvement. When looking at overall gaming performance in 1080p resolution, the R9 7945HX3D takes the lead, delivering a remarkable 15% increase compared to the R9 7945HX.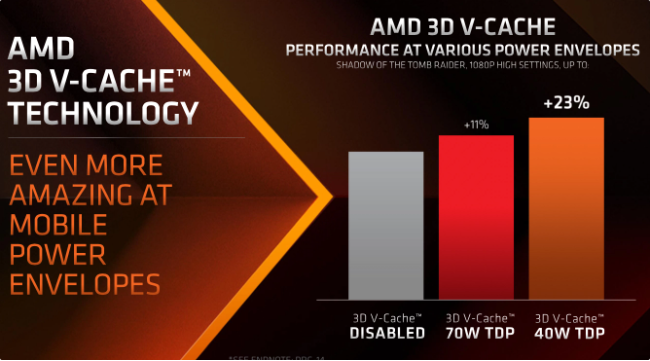 AMD enthusiasts and gaming aficionados alike can look forward to experiencing the full power of the R9 7945HX3D as it is set to hit the market on August 22, 2023, alongside ROG's latest line of gaming laptops.
With the R9 7945HX3D, AMD has once again demonstrated their commitment to pushing the boundaries of mobile computing, setting a new standard for performance and efficiency in the industry. As technology continues to evolve, we eagerly anticipate what the future holds for mobile processors and the incredible experiences they will bring to users worldwide.