May 08, 2023 – Tesla CEO Elon Musk announced on Monday that the company's Full Self-Driving (FSD) Beta v11.4 software will be rolled out to more employees, starting tomorrow. Musk emphasized that v11.4 is a significant improvement with a host of new features and should not be considered a small update.
Musk also stated that FSD 12 is being reserved for an end-to-end AI system that encompasses all aspects of self-driving, from image recognition to steering, acceleration, and braking.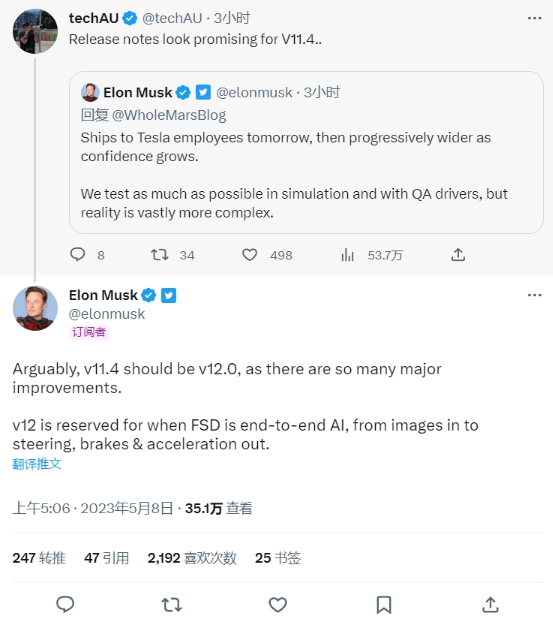 Previously, Musk had praised the performance of FSD Beta v11.4 during testing, noting that it was able to achieve "zero interventions" on random routes in Austin for several days.
Tesla released FSD Beta v11.4 two weeks ago to employees, with a focus on improving vehicle performance rather than introducing new features. The new version includes significant improvements to pedestrian recognition and response, the ability to respond to vulnerable road users, and adaptive speed control to accommodate changing weather conditions.
Currently, Tesla's FSD is available in North America, with a monthly subscription fee of $199 for AP users and $99 for EAP upgrades. Tesla will continue to release software updates for FSD testing, expanding the number of testing car owners. It is unclear when FSD Beta v11.4 will be made available to the public. As of now, there are more than 400,000 Tesla owners in North America with FSD Beta testing privileges.