July 12, 2023 – Caterham, the renowned British sports car manufacturer, has recently unveiled an exciting addition to their lineup at the Goodwood Speed Festival. Introducing the remarkable Project V, a futuristic electric sports car set to hit the market by late 2025.
Project V represents a bold new direction for Caterham, with its design conceived from the ground up as an all-electric vehicle. Spearheaded by the talented Chief Designer, Anthony Jannarelly, this electrifying masterpiece boasts a rear-mounted 200 kW electric motor and a 55 kWh USOC lithium-ion battery pack. With an impressive power output of 268 horsepower and a range of approximately 249 miles (or 400.73 kilometers), Project V pushes the boundaries of performance. Additionally, it features a 150 kW DC fast charger capable of replenishing the battery from 20% to 80% in just 15 minutes.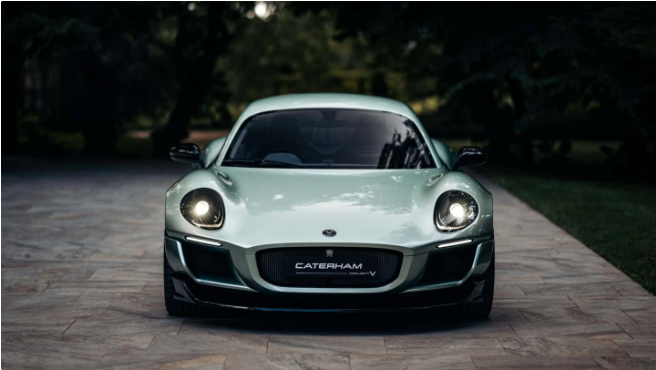 Embracing Caterham's minimalist design philosophy, Project V showcases a sleek and lightweight body, weighing in at around 1190 kilograms. Its chassis is constructed using a blend of carbon fiber and aluminum alloy composites, while the fully adjustable double-wishbone suspension and electric power steering enhance the car's agility and handling capabilities. Caterham estimates that this extraordinary sports car can accelerate from 0 to 60 mph in a blistering 4.5 seconds, with a top speed of 143 mph (or approximately 230.14 kilometers per hour).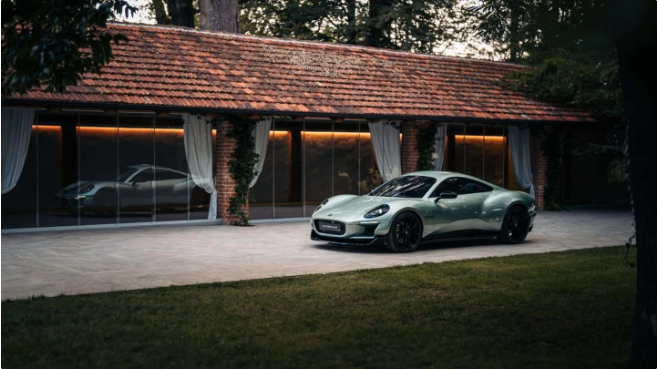 The showcased version of Project V presents a distinctive 2+1 seating configuration, although a 2+2 layout will also be available as an option. Caterham emphasizes that this arrangement optimizes comfort for rear passengers while providing enhanced versatility. The vehicle's dashboard boasts a minimalist design, featuring two circular digital gauges positioned ahead of the steering wheel. Beneath the central console, a series of rocker switches allow the driver to effortlessly switch between Normal, Sport, and Sprint modes, adjusting acceleration, suspension, and steering responsiveness accordingly. The entertainment system is intuitive and user-friendly, incorporating smartphone mirroring functionality.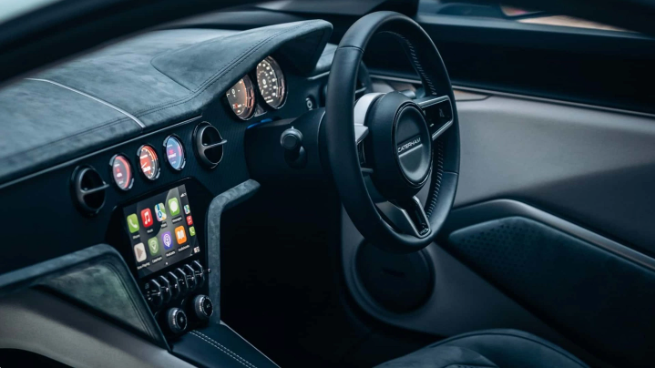 According to Bob Laishley, the CEO of Caterham Cars Ltd, Project V goes beyond being a mere design study or concept car. The development team meticulously examined engineering and production feasibility throughout the entire process. "Project V embodies our ambitious vision for sustainable growth and our exploration of electrification," Laishley states. He further adds, "Based on the progress of the next development phase and technological capabilities, Project V may potentially hit the market by late 2025 or early 2026."
Laishley clarifies that Project V is not intended to replace the existing Seven model but rather complement it. "By preserving Caterham's core values, we believe it will resonate with our existing customer base while attracting new enthusiasts," he asserts. "This vehicle blends practicality with the advantages of an electric car, making it suitable for grocery runs, school drop-offs, or thrilling Sunday morning drives."
Alongside prominent electric vehicles like the Pininfarina Battista Edizione Nino Farina and the MG4 EX4 concept car, Project V will proudly participate in the 2023 Goodwood Speed Festival, captivating audiences with its remarkable presence.