June 7, 2023 – In an exciting development, Samsung has unveiled its latest lineup of QD-OLED televisions featuring 77-inch, 65-inch, and 55-inch panels. This groundbreaking display technology has received prestigious certifications, namely the "Pantone Validated" and "Pantone Skin Validated" awards, positioning Samsung Display as the first-ever company in the display industry to achieve such recognition.
The "Pantone Color Validated" certification bestowed upon Samsung Display is based on the Pantone Matching System (PMS), a color standard that verifies the accurate representation of over 2000 specific colors. Only products meeting stringent criteria are granted this certification, ensuring exceptional color accuracy and fidelity. Additionally, to obtain the "Pantone Skin Validated" certification, Samsung Display had to demonstrate the precise portrayal of 110 different skin tones outlined in the Pantone Skinton Guide. This guide, meticulously crafted through scientific measurements of thousands of actual skin colors, serves as the sole international universal color standard designed to faithfully reproduce the closest approximation to real-life skin tones.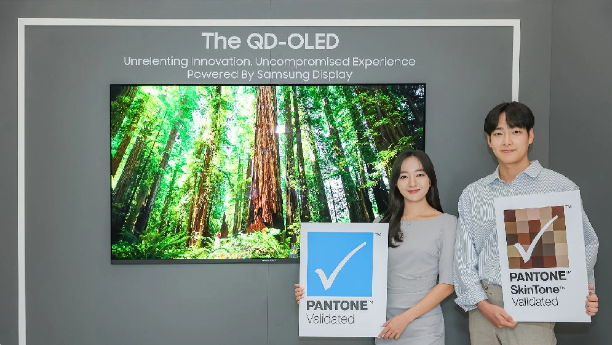 Now, let's delve into the technology behind QD-OLED. Distinguishing itself from conventional large-scale OLED displays that rely on color filters, Samsung's QD-OLED harnesses the optical properties of quantum dots. By leveraging the particle sizes, QD-OLED generates a broad spectrum of colors. Each pixel exhibits high color purity, minimizing the blending of adjacent colors and facilitating the manifestation of purer, deeper shades. Consequently, QD-OLED achieves an unprecedented level of color accuracy, enabling the faithful reproduction of natural hues with remarkable authenticity.
Samsung's dedication to obtaining the Pantone certifications highlights their commitment to delivering cutting-edge display technology that satisfies the discerning demands of consumers. By ensuring precise color representation and catering to the intricate subtleties of human skin tones, Samsung Display elevates the visual experience, immersing viewers in a world of true-to-life and vibrant colors. As technology continues to advance, Samsung remains at the forefront, revolutionizing the display industry and pushing the boundaries of what is possible.