September 07, 2023 – The AI landscape is evolving rapidly, and OpenAI has just announced an exciting event, OpenAI DevDay, set to take place on November 6th in San Francisco.
OpenAI DevDay is a one-day gathering that promises to bring together hundreds of developers from around the world to provide them with a sneak peek of cutting-edge tools and foster idea exchange with the OpenAI team. Attendees will also have the opportunity to participate in breakout sessions led by OpenAI's technical experts.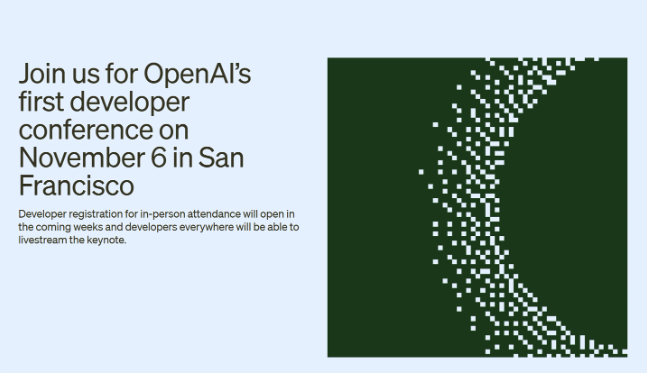 Since the launch of its API in 2020, OpenAI has been continuously refining its models, making it easier than ever for developers to seamlessly integrate state-of-the-art artificial intelligence into their projects with simple API calls. Today, over two million developers are leveraging OpenAI's technology, including GPT-4, GPT-3.5, DALL・E, and Whisper. These tools enable developers to integrate intelligent assistants into existing applications and even create entirely new applications and services that were previously unimaginable.
OpenAI's CEO, Sam Altman, expressed excitement about the event, stating, "We look forward to showcasing our latest work and empowering developers to create new innovations."
The surge in user adoption has also translated into impressive financial performance for OpenAI. According to reports by The Information, OpenAI is poised to generate over $1 billion in revenue within the next 12 months through the sale of AI software and the provision of computational power that drives it. This figure demonstrates the significant potential of AI large models and related technologies in the business world, underscoring OpenAI's remarkable success in this field. It bodes well for further advancements and applications of artificial intelligence technology.